Top performing trio applauded by international honor society
Three students from the North-West University's (NWU's) campus in Vanderbijlpark recently took to the stage as Chapter Award winners of the prestigious Golden Key International Honour Society.
Ammaarah Abba, Tendai Mavhungu and Salome Mofokeng each received the highest honour within the Vanderbijlpark Campus Chapter, based on their individual academic achievements, work commitments, extracurricular activities, leadership positions and commitment to community service.
The award winners were announced by Gillian Cloete, associate director at Golden Key International Honour Society: South Africa.
Ammaarah is a BEd student in the Faculty of Education. She is studying towards a Senior and FET Phase qualification and boasts a cumulative academic average of 80%. During 2018 she received an Outstanding Academic Achievement Award as a top student in the English Didactics for Education subject group.
She has been part of the Muslim Association since 2017 and also serves on the Vaal Muslim Women's Forum. Her passion for community upliftment is also evident from her participation in the Driehoek School Services Project as well as the IMA Clinic.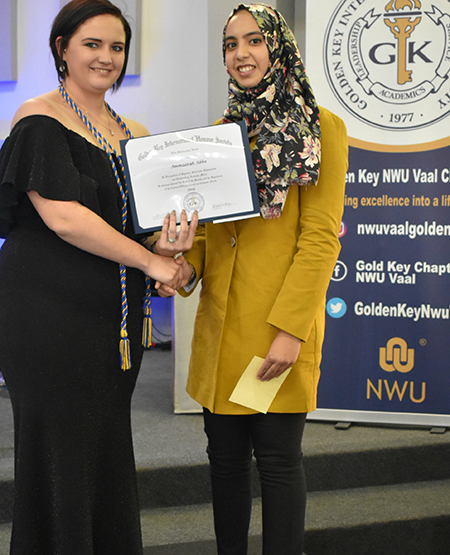 Ammaarah Abba
Tendai, a BCom economics and risk management student in the Faculty of Economic and Management Sciences, boasts an academic average of 75,9%.  As a member of the off-campus residence, Faranani, Tendai is actively involved in various leadership structures. These include the Faranani Sports Sub-Committee (tasked to facilitate netball and women's soccer activities), the Faranani Arts and Culture Sub-Committee (tasked to facilitate all community service and extracurricular activities), and the NWU Vanderbijlpark Residence Council.
As a residence leader, she spearheaded the Echoes of Love outreach in 2018, as well as the food and clothes drive for the TondLushaka Home in Limpopo earlier this year. Tendai is also active on the sports field and represents the campus in netball.
Tendai Mavhungu
Salome is a master's student in education management in the Faculty of Education and proudly boasts an academic average of 79%. She enjoys an active student life and has served on several leadership structures, including the Student Campus Council (2012/2013) and the Faranani Residence House Committee.
The latter saw her occupying the public relations portfolio (2010/2011) as well as serving as vice prim (2011/2012). In 2014 she was awarded as the Rivers of Living Waters Ministries: Youth Academic Achiever.
Her extracurricular activities include playing soccer for the campus and the NWU's USSA team. She is also a member of the campus choir.
In 2014 the Lebohang Secondary School announced her as Best Novice Educator, and in 2017 she was applauded for her for excellence in teaching (accounting and economic management studies).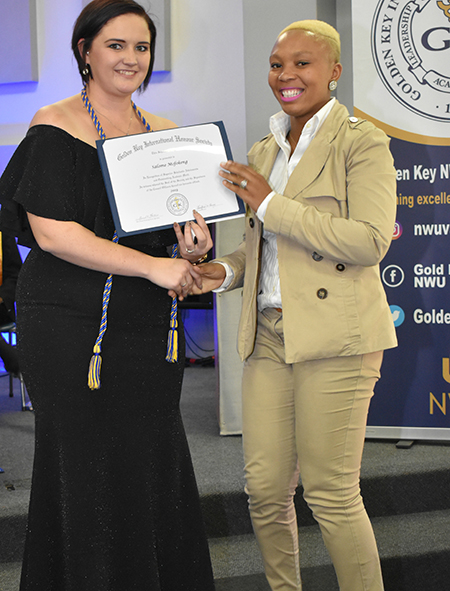 Salome Mofokeng
* The recent new member recognition ceremony of the Golden Key International Honour Society saw a total of 250 students from the campus in Vanderbijlpark being welcomed into the fold.