Rugby club ends year on a high note
When you achieve 75 per cent of the objectives of your three-year turnaround plan in one year, one of two things happened: either your goals were set too low, or you had an exceptional season. In the case of the North-West University (NWU) Vaal Rugby Club the second scenario applies.
This club recently held its prize-giving function at which the players and coaches were rewarded for their hard work.  According to Shaun Meijer, the chairperson of the club, the days when teams gathered on the banks of the Vaal River for an easy win, is something of the past.  
Jan Wiegand, president of the Valke Rugby Union, is also of the opinion that the achievements of the club are genuinely something to be proud of. "We would like to see more players from the club playing for the Valke in the Supersport Challenge and the Currie Cup within the next few years," he says.
A turnaround plan in action
If you ask Sean MacCallaghan, sports manager of the campus, what the winning recipe for his division is, his answer is that they followed by a clear and shared vision.
"We decided on a turnaround plan about a year ago, and I knew from the start that if we wanted to make this plan work, we would have to involve the best coaches and the best players," he explains, and adds that Dewald Pieters as coach was the pivot for the plan. His fellow coaches are Gunder Williamson, Peet van der Westhuizen, Christo Abrahams and Jorrie Jordaan.
A dream year for the club
The club's under 21 team won all 12 its games and were crowned as the under 21 champions of the Valke. In the process the team scored a total of 642 points and only conceded 122.  No fewer than 100 tries were scored and only 15 were conceded.
Another feather in the team's cap is that the club also delivered various under 19 and under 21 Currie Cup players, while the first and second teams also went through to the semi-finals of the Volcano Series.  These teams also ended up in the top 2 position in the Valke League.
Players rewarded for good performances
Webster Swanepoel
Dylan Hepburn
Hugo Scott
Shawn Swart
HB Koekemoer
Marius Groenewald
Kazlo Holtzhauzen
Victor Mbatha
David Kleynhans
AJ Pretorius
Shingirai Nyangani
Xander van der Walt
Rudolf Burger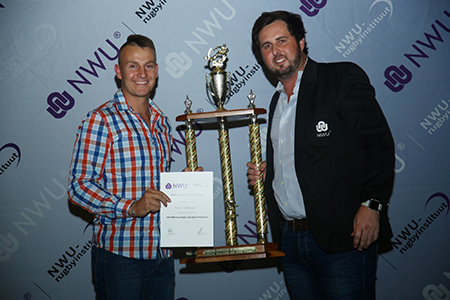 Kazlo Holtzhauzen was named the NWU Vaal Rugby Club's Player of the Year. With him is Sean Meijer, chairperson of the club. Photo: Ettienne van Rensburg.