Robofest 2017: NWU Vaal takes robotics beyond science class
If the excitement of the South African rendition of Robofest 2017 was anything to go by, then the stage is set for a stellar international championship in June. On Saturday, 4 March 2017, the Vaal Triangle Campus of the North-West University (NWU Vaal) hosted the South African National Robofest 2017 Championship in collaboration with Trophy Robotics.
This year's rendition of the championship serves as a qualifier for the international competition to take place in June in Florida, USA.
More than 50 learners from schools across central South Africa took part in Robofest SA and according to Ms Malie Zeeman, a lecturer in the School of Information Technology and a member of the organising committee, it is encouraging to see youngsters busying themselves with robotics.
"The main aim of an initiative such as Robofest is to encourage learners to embrace science, technology, engineering and mathematics – or STEM as it is more commonly referred to," explains Zeeman and adds that Robofest SA provides an ideal platform from where the principles of physical science, computer programming skills, technology, applied mathematics and communication technologies can be taught.
During the course of the event learners design, construct and program their own robots – be it as individual participants or as a team.
The championship catered for three age groupings, namely: Grade 4 – 8, Grade 9 – 12 and, the advanced VCC division (Vision Centric Challenge) for high school learners and university students. Robofest 2017 saw individuals, schools and teams taking part in the following categories: Gameplay, Exhibitions and Vision Centric Challenge.
The winners were:
•    Gameplay
o    Junior: C. Easter
o    Senior: C. Cockroft
•    Exhibitions
o    Junior: Brainiacs
o    Senior: JomoSoco, War Machine and RoboRats
•    School Development Team Winners
o    EV Awesome
Next step: the international stage
The South African representative of Robofest, Pieter Pretorius, announced during the event that the winners of the different categories will see themselves representing their country in June when the international championships take place in the United States. In another exciting development the international organising body also extended two invitations to South Africa to take part in the so-called World Championship for BottleSumo. This invitation is extended to middle and high school learners. 
This will be the first time that a South African team will take part in this robotic category. In preparation for this, Pretorius will host two workshops – on 18 and 25 March, during which he will not only teach learners the necessary skills for this category, but also ultimately select the two teams that will represent South Africa.
More about the Robofest Championship
The Robofest concept has taken the world by storm since its inception in 2000 and over 16 000 learners have competed in Robofest over the past 15 years – including teams from 13 US States, England, Canada, China, France India, Brazil, South Korea, Mexico, Singapore, and South Africa.
* This year marks the third time that the North-West University hosted this prestigious event.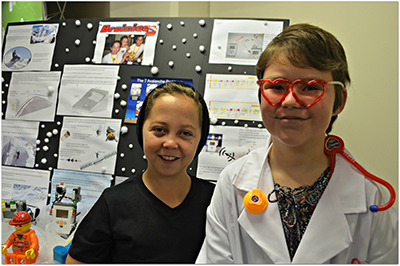 Two of the participants in the Exhibition Category. They are both members of the winning Brainiacs team. [both are 12 years old].