Research bolsters innovative teaching and learning strategies in accounting classrooms
As a professional educator, the North-West University's (NWU's) Dr Viné Petzer is passionate about harnessing the power of education. More so, when it comes to the science of accounting education.
Dr Petzer has more than 15 years of practical experience as an accounting lecturer in higher education, and recently took to the stage to obtain her PhD in teaching and learning. She is committed to addressing the steady decline in the subject pass rate and subsequent drop in numbers of learners taking up this subject at secondary school or Further Education and Training (FET) level.
"It goes without saying that the classroom environment, which is mainly under control of the educator, has the potential to influence both the way in which learners approach their learning of accounting and the learning outcomes they achieve in the subject," says Dr Petzer.
She adds that it is important for educators and pre-service educators to take cognisance of the fact that knowledge of the subject content alone is not indicative of learning success.
Her research saw her interacting with a heterogeneous group of learners and teachers from public secondary schools in Gauteng, and the findings include key classroom conditions.
These include positive and passionate teachers who: accommodate different ability levels by employing different teaching and assessment methods; provide constant, precise and constructive feedback; motivate and encourage accuracy and persistence; create a safe space for learners to ask questions; provide support where needed; establish positive relationships between them and the learners as well as between learners; and stimulate the development of critical thinking skills.
More about the expert
Dr Petzer is a lecturer in the School of Commerce and Social Studies in Education on the campus in Vanderbijlpark.
She obtained a BCom degree in 1996 and a Higher Education Diploma in 1997 from the former Potchefstroom University for Christian Higher Education. In 2007 she acquired a BEdHons degree and in 2010 an MEd in teaching and learning from the NWU.
Dr Petzer was an accounting lecturer at the Sebokeng College of Education from 1996 to 2000 and a teacher at Afrikaans High School in Sasolburg from 2001 to 2008.
As an expert in teaching and learning, she has presented several academic papers at national and international conferences and she has also contributed to a chapter in a book, Developing Critical Thinking.
Her research interests are currently focused on the improvement of teaching and learning strategies and methods in Accounting with the aim to promote cognitive development among learners as well as pre-service teachers.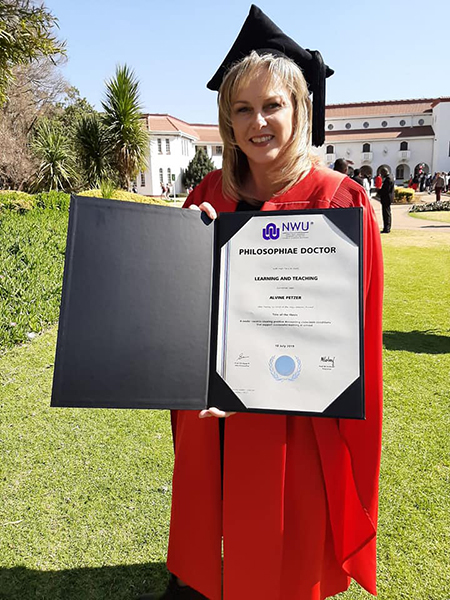 Dr Viné Petzer.
#NWUWomen