Optentia delivers third international joint PhD
Unemployment has South Africa in a chokehold. According to the latest figures – as recently released by Stats SA – the official unemployment rate in South Africa jumped to 29% in the second quarter of the year, the highest jobless rate since the start of 2008.
Staying true to its commitment to be an internationally recognised university in Africa, distinguished for engaged scholarship, social responsiveness and an ethic of care, the Optentia research focus area at the North-West University (NWU) is working hard to understand the dynamics associated with unemployment. 
Just recently, the research focus area successfully delivered its third international joint PhD from the NWU and the Katholieke Universiteit (KU) Leuven in Belgium. Rachele Paver's doctoral degree in industrial psychology focused on vocational interventions for the unemployed.
More about the research project
Rachele investigated interventions to equip unemployed individuals to deal with unemployment. Her thesis contributed to knowledge regarding programmes and services offered to the unemployed in South Africa, by highlighting the need for psychosocial intervention programmes, proper documentation of employment programmes, collaboration between role players, distribution of the information, and the monitoring and evaluation of existing employment programmes.
She developed a framework comprising best practices to adapt, implement, and evaluate a job-search intervention, called the JOBS programme, which aims to develop personal resources and skills that promote re-employment.
As a means of fulfilling the absence of psychosocial intervention programmes for unemployed people in South Africa, she adapted and evaluated the Qhubekela Phambili career-enhancement programme (a South African version of the JOBS programme), among unemployed people from two low-income communities in South Africa.
For the past four years, Rachele has been a full-time doctoral candidate affiliated with both the Optentia research focus area and the Research Group Work, Organisational & Personnel Psychology at KU Leuven in Belgium. Her PhD qualification is part of a joint PhD programme with KU Leuven and therefore, she simultaneously receives a PhD in psychology from KU Leuven.
* Rachele follows in the footsteps of Leoni van der Vaart (who studied different psychological types of unemployed people and their motivation), and Melinda du Toit (who gained community and entrepreneurial perspectives on unemployment).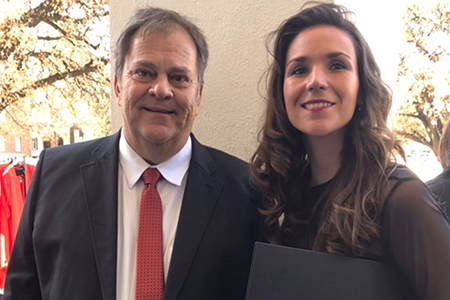 Prof Ian Rothmann, director of Optentia and Dr Rachele Paver.
#NWUWomen