NWU PhD graduate contributes to international literature
The North-West University's (NWU's) campus in Vanderbijlpark proudly awarded a PhD in English to Manuela Fernandes-Martins, academic developer at the Centre for Teaching and Learning (CTL), during the recent Autumn Graduation.
In her thesis, An evaluation of a franchised supplementary programme in English as a second language in South Africa: a case study, Manuela developed a framework and used it to evaluate the language programme, Active English. This programme for teaching and learning English as a second language was developed in the Vaal Triangle and complements the learning of English as an additional language in public schools.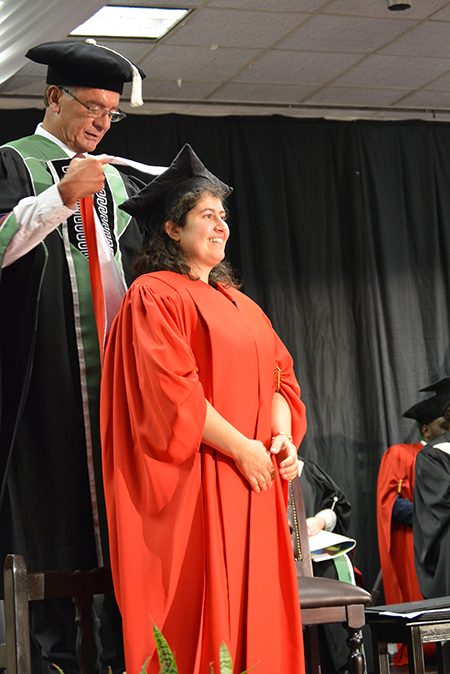 Mr Neels Vermeulen and Manuela Fernandes-Martins.
Shadow education has a long history in Asia where a culture of continuous self-improvement is prevalent. Manuela's study is the first study of shadow education in South Africa. The study used qualitative research methods in the form of an ethnographic case study. Data were collected from lesson observations; a classroom environment survey; interviews with participating parents, children and the franchisor; as well as document analyses of Active English and the South African Department of Basic Education.
The examiners commend Manuela on the appropriateness of the choice of research design and "the quality of detailed information provided in respect of ethical codes, data collection, data analysis and interpretation in order to arrive at valid reliable and trustworthy conclusions".
One of the main findings from the study is that an enterprise such as Active English holds the potential to enrich the teaching of English in the public school system, if efforts are made by policy makers in government and entrepreneurs in the private sector to broaden access to these programmes for school learners. The examiners added that the candidate has "significantly contributed to the national and international literature" with regard to the topic, and that "the candidate added new knowledge to the field by providing a framework which can be used to evaluate other franchised language programmes. Such a framework would be very valuable both in the academic arena as well as commercially".
Manuela Fernandes-Martins was born on 11 January 1980 in Vanderbijlpark. She matriculated from the Vaal High School (1997) and enrolled for a BA in English and history at the former Potchefstroom University for Christian Higher Education in 1998. Thereafter Manuela completed a BA honours in English (2002) and a master's degree in English (2005) at the NWU. The title of her master's dissertation was "A model for optimising subtitles for Deaf and hard-of-hearing television viewers in South Africa".
Manuela continued with her studies and completed a Postgraduate Certificate in Education (PGCE) with distinction in 2006. She also completed a Foundation Teachers of English to Speakers of Other Languages (TESOL) Certificate at the Royal School of Languages in Portugal (2007). In 2015 she joined the Understanding and Processing Language in Complex Settings (UPSET) research focus area at the NWU's campus in Vanderbijlpark as a PhD student.