NWU legal ladies to join national network of women lawyers
On 12 September 2018 undergraduate female law students from the North-West University's (NWU's) campus in Vanderbijlpark had the opportunity to learn more about Women Leading in Law (WOLELA), a national network of women lawyers.
The event was organised by two third-year law students – Dimpho Nkoe and Kegomoditswe Mokone – and saw Amanda Emily Mashoko, a member of the WOLELA Advisory Council and also a social entrepreneur and current LLB candidate, take to the podium to motivate and encourage young women within the Faculty of Law.
According to Dimpho and Kegomoditswe the WOLELA session aimed to make future legal practitioners aware of the support networks that are available to them. By joining these support networks women are empowered to thrive in law so that they can ultimately contribute to the emergence of a healthier legal system.
According to Amanda, a former administrative assistant in the Public Protector's Office, it is important for young female law students to find their passion within the sector and endeavour to remain a compassionate voice in law.
After asking students what they aspire to become after completing their law degree, she told them to address each other in accordance. "If your friend aspires to become a prosecutor, then address her as such. Not only will you be speaking life upon her professional dream, but you will also be motivating her along her academic journey," explained Amanda.
For Amanda, who is currently in the process of establishing a law student mentorship programme, it is important that women reclaim their power within the work environment. "One of the things I find most inspiring is women openly supporting and lifting each other up. With so many obstacles on the road towards success, we don't need to create another one by getting in our own way," said Amanda and added that by drawing on support from other women, you can harness the collective energy of your peers.
Mora about WOLELA
WOLELA is a national network of lawyers founded by Amanda Lamond, who heads-up the Centre for Integrative Law CIL – a consultancy for emergent thinking in the practice of law – in 2016. The aim of WOLELA is to develop and foster a national network of women lawyers in South Africa who in turn supports individual women lawyers to thrive.
The organisation currently has two active chapters in Johannesburg and Cape Town. A new initiative will see undergraduate female law students benefit from a mentorship programme. These mentees are to be mentored by highly skilled women lawyers within WOLELA.
* The NWU was the first institution visited by WOLELA during its 2018 outreach session. For more information, please send an email to amandamashoko@wolela.co.za.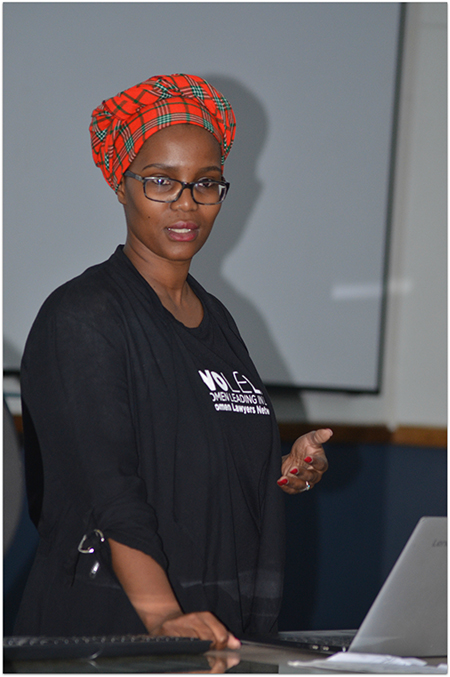 Amanda Mashoko.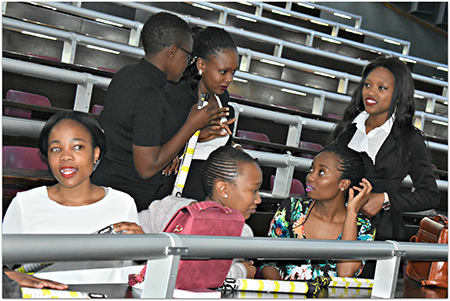 Undergraduate students discussing their future career paths.