NWU graduates shine during October graduation ceremony
The October graduation ceremony of the North-West University's (NWU's) campus in Vanderbijlpark was a memorable event. As the more than 100 graduates crossed the stage, proud loved ones ululated, cheered and applauded in unison.
In her address, Prof Linda du Plessis, deputy vice-chancellor for planning and campus operations in Vanderbijlpark, told the audience that a graduation ceremony represents a celebration of the coming of age of the next generation of leaders; opinion formers; educators; entrepreneurs, technical experts; scientists and artists. As such the occasion is marked not only by the acknowledgement of achievement, but also the promise of future greatness.
"A graduation ceremony is at the same time the beginning of an exciting new phase of your relationship with your alma mater," said Prof Du Plessis and added that upon receiving a qualification, a student's status changes from that of a scholar to that of an alumnus.
"Our alumni are important ambassadors and friends of the campus. The NWU is extremely proud of its alumni network that spans not only the African continent but the world at large."
The ceremony, which took place at the River of Life Family Church in Vanderbijlpark, saw eight master's degrees and four doctoral degrees being conferred.
Master's degrees conferred
Jessica Dos Santos Gutierrez: Master of Commerce in Industrial Psychology
Dewald Kellerman: Master of Commerce in Risk Management
Anna Christina Marx: Master of Commerce in Accountancy
Nomsa Roseline Moteetee: Master of Education in Educational Management and Leadership
Siphiwe Maria Moshugi: Master of Arts in Positive Psychology
Lerato Faith Pamela Libate: Master of Arts in Public Management and Governance
Welhemina Nthabiseng Mofokeng: Master of Development and Management
Alexander Van der Walt: Master of Science in Computer Science
Doctoral degrees conferred
Paddy Mugambe: Philosophiae Doctor in Accountancy
John Byron Bunt: Philosophiae Doctor in Learning and Teaching
Usha Ojageer: Philosophiae Doctor in Learner Support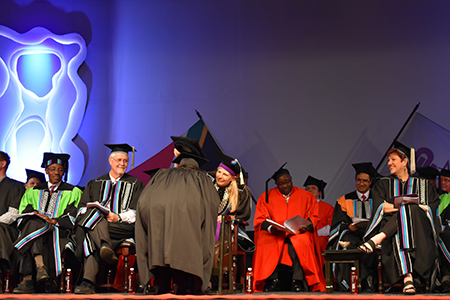 Prof Linda du Plessis conferred the degrees upon the graduates.