NWU experts visit Central Europe to boost international collaboration
Internationalisation is a top strategic priority for the North-West University (NWU). This practice not only improves quality of education, but also enhances knowledge transformation and acquisition, the mobilisation of talent in support of global research and the enhancement of the curriculum with international content.
Against this backdrop, three researchers from the Faculty of Economic and Management Sciences recently participated in the 7th International Scientific Conference on Management in Slovakia.
The theme of this year's conference was "Management and the world in motion: Challenges, opportunities and threats". 
The trio – Prof Danie Meyer, Dr Natanya Meyer and Jacques de Jongh – presented five academic research papers during the conference. The topics of these papers included entrepreneurship, development economics, inclusive growth and labour practices. Specific research on the Visegrád Four Countries – Slovakia, Poland, Hungary, and the Czech Republic – was also presented.
In addition to their conference attendance, the NWU delegates were also invited to present a series of master classes and special lectures at two universities in Hungary. The first being the Szent István University in Gödöllő and the second, the Budapest Metropolitan University.
According to Prof Meyer, the focus of the lectures was regional economic development and included topics such as inclusive growth indexes, alternative multidimensional economic development index, entrepreneurship, employment in South Africa and the formulation and application of local economic development assessment instruments. Attention was also given to aspects such as presentation skills and academic writing.
The trio furthermore identified possible opportunities for collaboration, including student exchange programmes, external examiners, extraordinary professorships and research collaboration.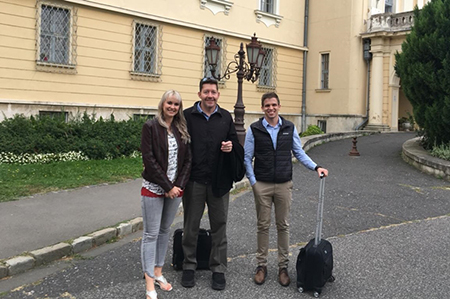 Dr Natanya Meyer, Prof Danie Meyer and Jacques de Jongh.