New digital directory aims to boost township economy
Innovating for innovation's sake is not innovation. True innovation comes from identifying day-to-day challenges and finding novel and sustainable solutions. This is according to North-West University (NWU) alumnus, Olivier Tshimbidi, one of the founding members of Khomba Africa, a new digital platform that aims to redirect spending to local townships and by doing so, revitalise the South African economy.
The online directory – which offers users the choice of making use of an app or a website interface – encapsulates a localised business directory with the features of an e-commerce platform. In short: a platform that links SMMEs with consumers close to them who are in need of their products or services.
Alumni taking the lead
At the helm of Khomba Africa you will find Olivier and fellow NWU alumnus, Ndumisa Hadebe, as well as business partners Murendeni Nefale and Jose Andre Paiva. Together this foursome has managed to not only harness the power of digitalisation – to connect consumers and SSMEs, but also to reinvigorate the South African marketplace.
Both Olivier and Ndumisa graduated from the NWU's campus in Vanderbijlpark with a BCom degree in business management and entrepreneurship and, economics and international trade, respectively. Similarly both Olivier and Ndumisa served as elected student leaders during their stint at the campus.
Outside of Khomba Olivier works as a senior associate performance improvement consultant in the oil and gas sector at Ernst Young in Sandton. On his turn, Ndumisa – who is also a previous season winner of the popular SABC One Day Leader Competition – is an independent economic researcher and public speaker.
At the heart of innovation
The single most important driving force behind the directory is the question: What kind of innovation does Africa need? Olivier explains that he and his colleagues are of the opinion that a developmental approach to innovation will steer South Africa towards greater economic stability and development. "Everybody is talking about the fourth industrial revolution, but in our country – taking into consideration our history and struggle – many people were deprived of the first and in many instances the second industrial revolution," explains Olivier and adds that developmental approach to innovation therefore allows for customisation of not only the consumer experience but also the entrepreneurial venture.
Where entrepreneurs used to rely on word of mouth marketing, the digital directory opens up the playing field and serves as an equaliser in terms of market competitiveness. An add-on service allows customers to view and rank any of the business listed on the directory and as such the legitimacy of listed businesses is ensured.
What furthermore makes this directory so unique is that it enables customers to conduct geographic specific searchers and by doing so not only stimulates local economic development, but also allows SMMEs the luxury of an efficient digital presence. On the flip side, the platform allows for the gathering of valuable data into consumer and SMME interactions. These insights can then be used to inform targeted research that will ultimately influence policies and intervention strategies aimed at assisting SMMEs to build sustainable businesses.
To watch a short video on Khomba Africa, click here.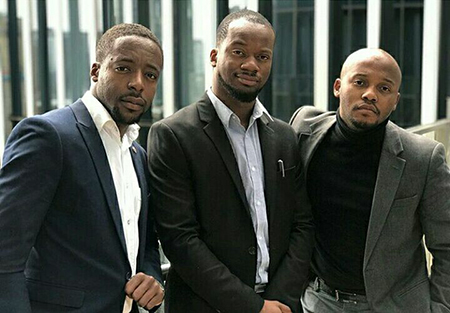 Jose Andre Paiva, Olivier Tshimbidi and Ndumisa Hadebe. The fourth partner is Murendeni Nefale.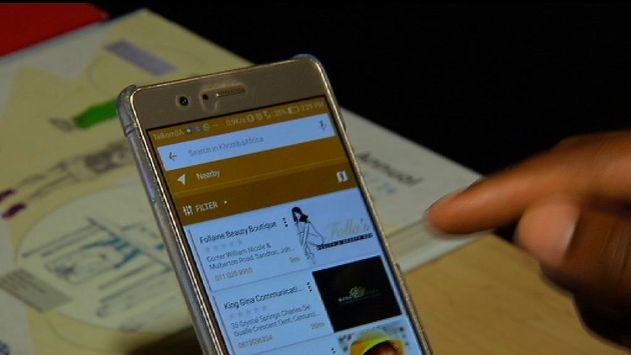 The directory allows users to choose between making use of an app or a website interface.