Muffineers enjoy the sweet smell of entrepreneurial success
For The Muffineers success tastes and smells a lot like buttercream, vanilla, chocolate and strawberry.
Alumnus Tshepiso Maimane and students Mohapi Motaung and Thato Moeng from the North-West University's (NWU) campus in Vanderbijlpark are living proof that entrepreneurship is a viable career option for university students and graduates.
In 2019 it will be six years since Tshepiso, Thato and Mohapi first donned aprons to bake a batch of muffins they hoped to sell to staff and students. Little did they know that this attempt at raising funds to put towards their tuition fees would turn into a profitable business with clientele ranging from classmates and wedding planners to high-end coffee shops.
Today Tshepiso is a proud alumnus of the NWU, having obtained a BCom degree in economics and risk management in 2016 and an honours degree in risk management in 2017. Thato and Mohapi are both BCom students, respectively studying marketing and economics, and risk management. They will graduate in 2020.
'Our circumstances do not define us'
The trio decided a long time ago that they would not become victims of their dire financial circumstances.
Once at university the three friends – who met each other as first-year students – couldn't make ends meet with the allowances they received from home. The idea of baking and selling muffins was born during a lunchtime conversation when they could not afford a meal at the cafeteria. Tshepiso says the conversation soon took the form of a brainstorming session to find ways to generate extra money in order to afford meals.
"We knew we would have to do something about our situation ourselves," explains Tshepiso and adds that every idea they had, had to be weighed up against their combined allowances. It was then that Thato said he knows how to bake muffins and that the ingredients are relatively inexpensive. The three laugh out loud when remembering their first batch: 36 muffins they brought along to campus to enjoy with their friends during lunch.
Living the sweet life
It wasn't long before word got out and students were queuing to buy muffins. "They say hunger is the best cook," laughs Mohapi, saying that in The Muffineers' case, hunger was the spark needed to ignite the "sweet life" for them – literally and figuratively speaking.
They dutifully rise at six o'clock every morning – regardless of whether they have classes to attend or not – to bake muffins. The Muffineers sell between 300 and 500 muffins a week and use 150 kilograms of flour, 684 eggs and 32 litres of cooking oil every month! Clearly, their customers agree with their motto that "Life starts when you have your first muffin".
Expanding their business
In 2015 the trio decided to take a leap of faith and expand their offerings to diversify their venture. This saw them taking on orders for decorated cupcakes and designer cakes for special occasions such as graduation and birthday parties. Again their dedication and commitment paid dividends and today their cakes are in high demand.
And what does the future hold for The Muffineers?
The trio agree that their venture will continue long past their time as university students. They would like to see it take the form of a franchise.
And once again they reiterate their stance: "We will never be victims of our circumstances, but rather victors of our choices! We are taking ownership of our future and refuse to become part of the statistics of unemployed graduates."
To watch a short video on their entrepreneurial journey, click here.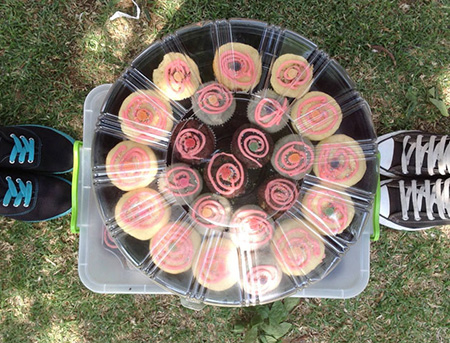 Each one of The Muffineers has an assigned duty. Tshepiso (left) handles all administrative tasks, Thato (centre) heads up the selling and marketing of the baked goodies while Mohapi (right) is in charge of the baking.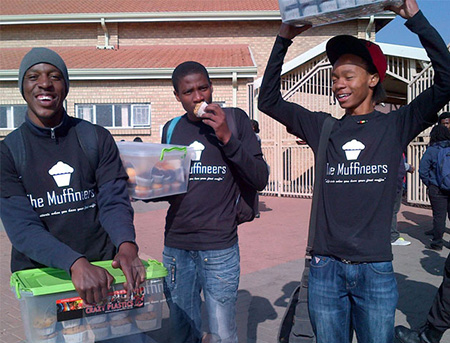 The Muffineers sell between 300 and 500 muffins and cupcakes a week.