Innovative research earns NWU lecturer his PhD
It was a proud moment on the North-West University's (NWU's) campus in Vanderbijlpark when French lecturer, Dr Taty Dekoke, was awarded his PhD in linguistics and literary theory at the recent Autumn Graduation ceremony.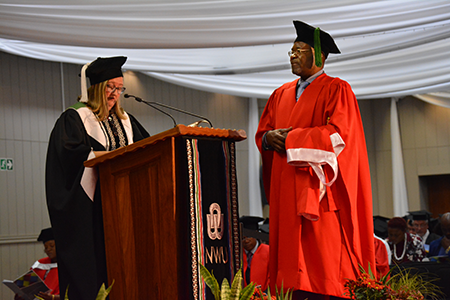 Dr Taty Dekoke with his study promoter, Prof Susan Coetzee-Van Rooy.
His thesis, The changing language repertoires of Congolese migrants in the Vanderbijlpark, investigated the complex processes that unfold when multilingual migrants from the Democratic Republic of the Congo (DRC) migrate to multilingual South Africa.
To date, studies of migration and language repertoire mainly focus on contexts where monolingual migrants immigrate to monolingual countries, acquiring the dominant language of the host country and losing heritage languages within three generations. What makes Dr Dekoke's study so innovative is the fact that it contributes data from an under-researched context where multilingual migrants enter a multilingual host country.
The overall finding of the study is that knowledge of more languages is important for integration; and that new patterns of language repertoires are emerging in this super-diverse context. The examiners of the thesis state that it "sheds light on the intricacies of language practices" in this complex context, which is fast becoming the norm in the world. Dr Dekoke's study offers insights that are globally relevant and contributes to a growing body of knowledge from the global south that rewrites theories from the north. Findings have already been presented at international conferences and published in academic journals.
Dr Taty Mbaki Dekoke was born on 21 January 1967 in Mbanza-Ngungu in the western part of the DRC. He completed his school, undergraduate and honours degrees in the DRC (until 1994).  During this time, the DRC experienced a lot of challenges. During the occupation of the country, his family decided to leave the Congo and to settle in South Africa in 2003. In 2004, he enrolled for a master's degree at the University of Cape Town where he studied the didactics of foreign languages. He majored in French as a foreign language and taught French at the Saint George's Grammar School (2005-2011). In July 2011, he was appointed as French lecturer at the NWU's campus in Vanderbijlpark.