Fempreneurs shine during EWP gala event
It was a night of celebration and accomplishment when the North-West University (NWU) paid homage to the 2019 graduating class of the Enterprising Women Programme (EWP).
This flagship entrepreneurial accelerator programme was introduced seven years ago and empowers women across the NWU's demographical footprint to become self-sufficient business owners.
The gala evening saw participants from two renditions of the EWP graduate, namely EWP Vanderbijlpark and EWP Sasolburg. In total, a group of 23 women were applauded by members of the region's business fraternity and university management.
"Every group of EWP graduates reaffirms the NWU's commitment towards social responsiveness," says Johan Landsberg, manager of the bhive EDC.
He adds that the programme serves as a launching pad from where fempreneurs can effectively navigate the challenges that are unique to them. These challenges include high levels of domestic responsibility, a lack of assertiveness and confidence, fewer business-orientated networks in their communities and a lack of capital and assets.
More about the programme
The programme is being rolled-out in Mahikeng, Potchefstroom, Sasolburg and Vanderbijlpark and is managed and coordinated by the bhive Enterprise Development Centre (EDC) in Vanderbijlpark. The latter represents a dynamic hub of entrepreneurial activities within the Faculty of Economic and Management Sciences.
According to Leonie Greyling, EWP coordinator, the success of the annual programme lies therein that it provides real-time business support services to women. Participants are taken through a comprehensive curriculum to assist them in identifying business ideas and markets, the development of a sound business model and finally how to initiate their start-up venture. Leonie adds that along the way the women not only become part of a dynamic peer network, but also enjoy personal mentorship by seasoned entrepreneurs and knowledgeable members of academia.
"Ultimately, the programme offers women the opportunity to freely explore their entrepreneurial endeavours while at the same time enjoying the benefits of a structured learning experience through workshops and group-centred learning activities," says Leonie.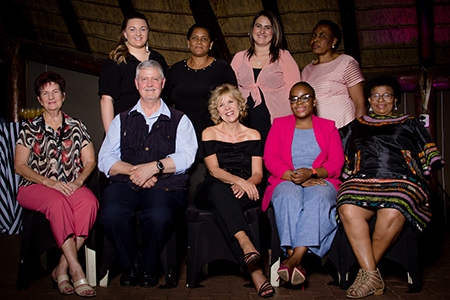 From left are Rita Beneke (Golden Triangle Chamber of Commerce), Prof Herman van der Merwe (Faculty of Economic and Management Sciences), Leonie Greyling (bhive EDC) and Dr Esmé Young (SASOL) with the graduates from the EWP Sasolburg: Precious Mochela and Sithokozile Senokwane. At the back from the left are Lerato Sebofe, Reitumetse Mokaba, Nabawiya Rahiman, Angela Bender, Natasha Odendaal, Grace Nobunga, Tebogo Mokholo and Cordelia Dlamini. Absent: Diana Mokoena and Michelle Ogle.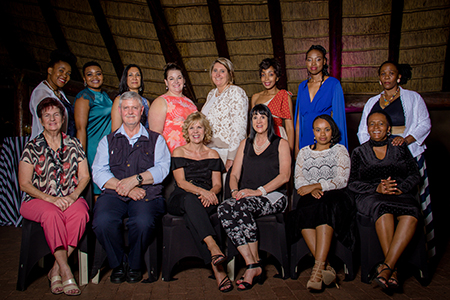 From left are Rita Beneke (Golden Triangle Chamber of Commerce), Prof Herman van der Merwe (Faculty of Economic and Management Sciences) and Leonie Greyling (bhive EDC) with the graduates of the EWP Vanderbijlpark: Dimakatso Ntombela and Kedbone Rabbi. At the back from the left are Kerryn Henning, Lorraine Raputsoe, Leana Uys and Lizzie Barnes. Absent: Adilla Jooma, Linda Kloppers, Motshidisi Tlali, Silindile Tyani and Tsholofelo Modise.