Commodity risk management: students g(r)ain experience
Economic instability has changed the way in which companies operate. Long gone are the days when decisions were made solely with the help of forecasts and projections. Risk management has become an integral part of good management and governance.
This is also true for grain marketing and trading.
Risk management students from the North-West University's (NWU's) School of Economic Sciences recently enjoyed a first-hand glimpse of the world of work when they visited Senwes – a leading South African agricultural company in Klerksdorp.
In the financial year 2017/18, Senwes handled and stored the largest maize crop ever produced in South Africa. Statistically this means that their profit after tax increased by 86%, from R167 million in 2017 to R311 million in the 2018 financial year.
According to Zandri Dickason, programme leader for risk management and senior lecturer, effective risk management plays an important role in the company's efforts to manage the reality of food scarcity and food security in the country.  
The group of students, who are all busy with their postgraduate studies, not only got the opportunity to visit the Senwes Grainlink Silo site of operations in Viljoenskroon, but also spent a day in the company of grain traders and risk management practitioners at the organisation's head office in Klerksdorp.
In terms of grain marketing and trading, Senwes provides services to both national and international clients relating to maize, oilseeds, wheat and sundry soft commodities. Risk management represents a logical and systematically method of identifying, analysing, evaluating, treating, monitoring and communicating risks associated with any activity, function or process.
According to Frans Dreyer, Manager: Senwes Brokerage, the students' visit bears testament to the university's commitment to prepare graduates for the realities of the world of work. He also said that Senwes will continue to support initiatives such as this one, since it serves as an investment in future human capital.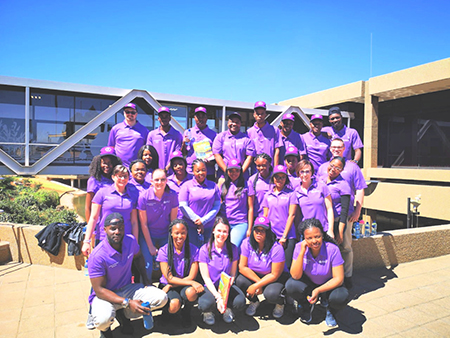 Risk management students at the Senwes head office in Klerksdorp.