Set to reach their goals
One of the biggest priorities of the North-West University (NWU) is to be involved in our local communities. Yet another such an initiative of the Faculty of Health Sciences is to support and contribute to the sustainable development of the Ten Stars Football Club, based in Potchefstroom.
This new project saw the club members recently receiving their brand-new soccer kits, sponsored by the faculty.
John Moseki Seitlholo, a messenger by occupation at the NWU's School of Human Movement Sciences and the head coach, started the club in 2000. He called it "Ten Stars" because of his aim to turn young kids into future soccer stars and help them to better their lives.
A total of 66 players currently play for the team in three different divisions, namely under 15, under 19, and under 21.
The Ten Stars Football Club was one of the last 32 teams participating in the Nedbank Cup in 2016, and the only team from the Dr Kenneth Kaunda region. In 2010, they were the first team to win the Madiba Cup.
Football is referred to as "the beautiful game", but for this club, this beautiful game is not always without challenges. "We don't always have the necessary funding, especially when we have to travel and play against other soccer teams. I often have to go from house to house to ask for donations," John says.
Now, the Faculty of Health Sciences has stepped in to give back to the community.
According to Prof Hans de Ridder, director of the School of Human Movement Sciences, the majority of the children in the club come from poverty-stricken backgrounds and do not have the means to obtain their own soccer kits.
"The Faculty of Health Sciences is privileged to be able to also contribute our expertise towards John's project. We have registered this initiative as an official community engagement project, which will allow us to offer much-needed assistance with regard to funding, clothing, equipment, transport and the general well-being of these players," Prof De Ridder says.
The club's plan for the coming soccer season is to work hard to realise their dream of playing in the Vodacom League. "I am so glad that the NWU took it upon themselves to utilise our infrastructure, support structures and expertise to further develop these players into well-rounded, passionate youths," John says.
The formal involvement of the NWU will create the platform where our local youth would benefit from personal sport development on a sustainable basis.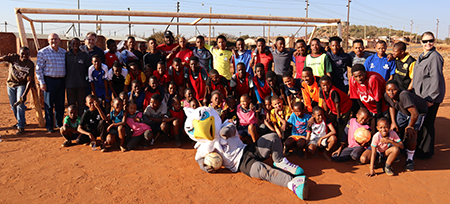 The Ten Stars Football Club of Ikageng, Potchefstroom. Eagi, the NWU's mascot, was delighted to present the club with their new kits.