Serious game aims to alleviate statistics headache
When it comes to learning and understanding statistics, many students see the subject as a daunting challenge leaving them not only demotivated but also frustrated – sometimes even before starting the module at university.
When the academic support departments of the North-West University's (NWU's) campus in Vanderbijlpark set out to identify the most challenging modules for undergraduate students, it soon became clear that statistics was a great challenge for students – especially in their first year of study. It was clear this issue needed to be addressed in a proactive and creative manner.
The team from Serious Games: South Africa (SGI-SA) - under the research umbrella of Technology Enhanced Learning and Innovative Education and Training in South Africa (TELIT-SA) - took up the challenge and proposed a serious game approach. The result? A student-centred serious game aptly called Thabang's Statventure, developed to motivate students to engage with the course material.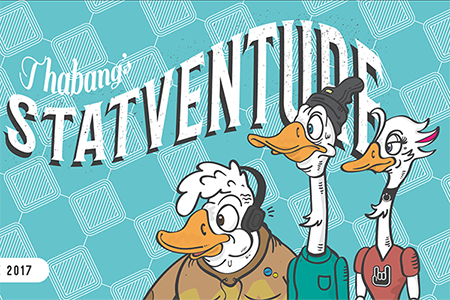 The process followed: from research paper to computer programming
In SGI-SA's attempt to overcome the difficulties experienced by first-time students, a study was undertaken to identify the main points of concerns:
Students had a negative attitude towards the module in question.
Students enrolled in the set course were from diverse subject disciplines.
Insufficient time was given to master statistical techniques.
A perceived lack of practical applications to explain the concepts.
Time constraints.
Limited use of technology – especially with regard to alternative teaching and learning methods.
The SGI-SA team tasked with developing Thabang's Statventure were: Prof Seugnet Blignaut (TELIT-SA coordinator and supervisor), Dr Verona Leendertz (project manager and content expert), Mr Japie Greeff (lead programmer), Mr Lance Bunt (lead developer, art and animation), Mr Mogomotsi Serake (programmer), Mr Modisane Seitshiro (content expert) and Ms Irma Myburgh (graphic artist and administration).  
According to Lance, the study indicated that overall, faculty members on the campus in Vanderbijlpark were eager and willing to embrace technology as a tool to enhance teaching and learning through student interaction and collaboration. The challenge was that academic staff teaching statistics struggled to find an optimal mix of tools (including technology) to support their students effectively.   
After intensive consultation and interviews with faculty members, SGI-SA got the green light to proceed in developing a games-based solution for the problem.
"From the interviews we conducted it became clear that many students grappled with statistical concepts throughout the introductory statistics course.  Issues like time constraints, diverse student attitudes, low motivation levels and inadequate skills contributed to students falling behind early during courses without any hope of catching up," explains Lance.
By introducing a serious game early in the course there will be benefits in terms of heightened motivational levels, an increase in skills development and an alignment of the students' knowledge to the set statistical frameworks.
| | |
| --- | --- |
| | |
| Dr Verona Leendertz | Mr Lance Bunt |