Researcher receives top honour with Women in Science Award
It has been a year of academic highlights for one of the North-West University's (NWU's) most prolific researchers with two high profile awards in just two months. Prof Alta Schutte of the Faculty of Health Sciences on the campus in Potchefstroom was honoured as a distinguished women researcher for her work in natural and engineering sciences in Women's Month.
This follows hot on the heels of her receiving the coveted NSTF-South 32 Awards, also known as the "Science Oscars" in June. No stranger to awards, Alta has also been honoured with a Woman in Science Award for Distinguished Young Woman in Science and an excellence award from the Physiology Society of Southern Africa. She was chosen for the Next Einstein Forum which connects science, society and policy in Africa and the rest of the world. 
Her latest achievement is an annual award which celebrates the achievements of women in science and is presented by the governments' Department of Science and Technology. Minister Naledi Pandor says the awards aim to showcase the exceptional achievements of women with the hope that it will inspire young women to follow in their footsteps.
Winning the Women in Science Award places Alta in the same league as some of the country's most revered and inspirational women scientists.
It takes only a few moments in her presence to realise that she is an exceptional woman who is absolutely passionate about her work in the faculty, especially at the Hypertension in Africa Research Team (Hart) which recently became one of the NWU's four centres of excellence.
Her expertise has led to her being appointed as the South African Research Chairs Initiative's (SARChI's) chair in the Early Detection and Prevention of Cardiovascular Disease in South Africa. Alta is also the director of the Medical Research Council's Extramural Unit for Hypertension and Cardiovascular Disease and vice-president of the International Society of Hypertension. She has received a B2 rating from the National Research Foundation which acknowledges her as an internationally acclaimed researcher.
"Any form of recognition is always wonderful and it is great that there are platforms like these. Awards usually give credit to individuals but I would not have been able to do what I am doing if it was not for the great group of colleagues, students and team work at the NWU," she says modestly.
How do you become an awarded scientist? This is an easy question for Alta. "The answer to success it passion for what you doing. When you are passionate you can adapt to the challenges to reach what you set yourself to do."
Her advice to young and upcoming scientists:  seek out good mentor(s), develop the ability to sometimes say "no" when workloads become unmanageable and support in the work environment are what it takes to reach the pinnacle of success.
Alta is more than just an accomplished researcher. She is also a dedicated mother of two young children and says she owes her professional success to the support and love of her family and in particular her husband, PJ.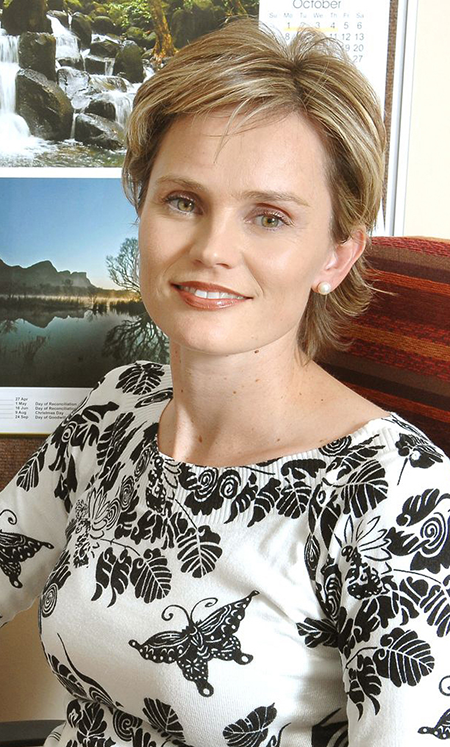 Prof Alta Schutte of the Faculty of Health Sciences was the overall winner in the Distinguished Women in Science Awards. She has successfully mentored seven postdoctoral fellows, supervised 13 PhD, 24 master's and 25 BSc honour's students. She is currently supervising nine PhD and four master's students.