Rector rewards winners of First Years Carnival
To the victors go the spoils – or in this case, the Faranani off-campus residence of the Vaal Triangle Campus of the North-West University (NWU). As winners of the 2017 rendition of the First Years Carnival, the residence was awarded a cash prize of R10 000 by Prof Linda du Plessis, acting campus rector.
The carnival – which took place in February, saw all first years of the different residences taking part in a talent competition themed: "Love! Look what you made me do!" According to Itumeleng Moroe, a member of the Student Representative Council (SRC) tasked with Arts and Culture, the theme of the event complemented the month of Valentine's Day.
Itumeleng explains that the aim of the carnival is not only to vest a sense of camaraderie amongst the new intake of first-year students, but also to familiarise themselves with the different residence cultures. The residences competed in four categories: best exhibition, best stage performance, best brag and, trendy trash. The latter represented the most interesting and imaginative category, as students had to create fashionable garments out of everyday trash items. The category produced unique creations that expressed not only the unique essence of each residence, but also clever ways in which to repurpose everyday items and in the process be more environmentally friendly.
The second place winners, Longfellow residence, received R3 000 and the third place winners, Bohlale Village, received R2 000.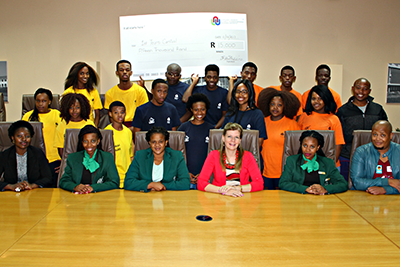 Prof Linda du Plessis, acting campus rector with representatives of the SRC and the three wining residences.