PhD study concludes that social entrepreneurship is a state of mind
The delight radiating from the face of Prof Chimwernwe Chipeta was clear to see as he watched his wife Eleanor obtain her PhD in entrepreneurship at the recent PhD graduation ceremony at the North-West University's (NWU's) campus in Vanderbijlpark.
Comprising a postdoctoral research fellow at the University of the Witwatersrand and a professor in corporate finance at the same university, the Chipetas certainly qualify as an academic power couple.
They often jest that a wife researching how to make money and a husband researching how to keep it, luckily never results in conflict.  The couple has three children - Jemima (11), Zoe (8) and Jeremy (5) - to whom they try to instil the value of money: working for it honestly and saving it wisely.
Eleanor says that she has always been interested in entrepreneurship and describes herself as "always looking for an opportunity". 
Her thesis was titled "Antecedents of social entrepreneurial intentions among Generation Y university students in South Africa". She investigated the factors that would influence one's intention to start a business with the desire to create social value by addressing social problems and enriching communities.
In pursuit of the primary objective, she developed and validated a scale to measure social entrepreneurial intentions to advance empirical research in the field. The scale was developed through thorough analysis of the definitions of social entrepreneurship found in existing literature. Various statistical analysis tests were used to validate the scale, using a sample of university students in South Africa.
Furthermore, the robustness of the scale was determined using a sample of students from Germany.
The findings of her study suggested that Generation Y university students in South Africa perceive social entrepreneurial intentions as an antecedent to social entrepreneurship. Social entrepreneurship intention was found to have strong correlations with attitude towards social entrepreneurship, social entrepreneurial perceived behavioural control, perceived social entrepreneurial feasibility and perceived social entrepreneurial desirability.
These results imply that the desire to start a social business is intentional. In other words, it is a state of mind that directs a person's attention towards a specific object or a path to achieve something. 
The Chipeta family is originally from Malawi where Eleanor's career started as a bank clerk for the National Bank of Malawi. These days she enjoys research, has published two peer-reviewed articles to date and boasts collaboration ties with Dresden University in Germany.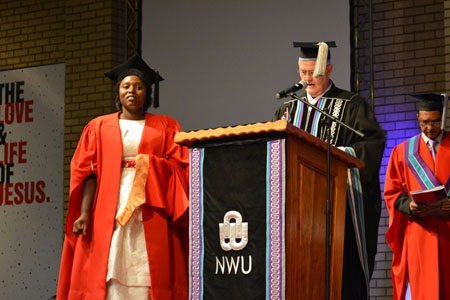 Eleanor Chipeta receives her PhD during the recent graduation ceremony.