PhD hat trick for Van Schalkwyk family
A very proud Dr Schalk van Schalkwyk senior looked on as both of his sons followed in his footsteps. Hugo and Schalk junior both obtained their PhD degrees at the recent autumn graduation ceremony on the North-West University's (NWU's) campus in Vanderbijlpark.
Dr Van Schalkwyk was a lecturer on the campus until he retired in 2011. However, the love for governance, which is his field of expertise, saw him back in the classroom at the Vaal University of Technology, where he still lectures today.
His sons build forth on their father's academic foundation, and both of them are lecturers at the NWU's campus in Mahikeng.
The research of Schalk junior looked at credit usage among Generation Y students and empirically tested a model of the factors that influence Generation Y students' credit usage intentions.
He found that materialism and status consumption tendencies influence Generation Y students' attitude towards money. He found that the latter – together with impulse buying and social comparison tendencies – influence their attitude towards credit and consequent credit usage intentions. His thesis earned him a PhD in marketing management.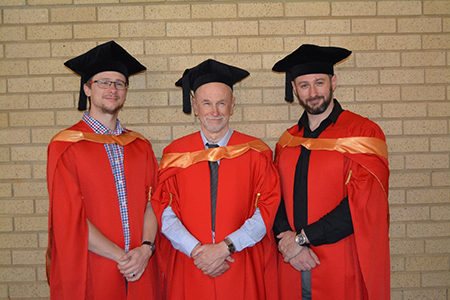 Drs Hugo, Schalk (sr) and Schalk (jr) Van Schalkwyk.
Seven years his junior, his brother Hugo obtained a PhD in economic and management sciences with marketing management. His study, entitled "Factors influencing effective relationship marketing by smartphone brands through social media amongst Generation Y students", led to the development of a structural model to test Generation Y students and their relationship with both smartphones and social media.
Moreover, it provides a useful framework for smartphone companies to better use social media marketing to reach Generation Y students.
Both brothers credited their father as their ultimate inspiration, who in turn credited his wife for her years of support while he was conducting his own research.
The brothers celebrated their important day with their parents, spouses and paternal aunt, who has just started a PhD of her own.