NWU partners with Eureka School for special sports day
The 2019 rendition of the Eureka School's Special Sports Day for high-support learners will see the North-West University (NWU) and the Vanderbijlpark community join forces to ensure a fun-filled day for all the young participants.
This year the NWU will take part in the initiative for the second time, and staff members from the Faculty of Education on the campus in Vanderbijlpark will actively take part in the event on Friday, 30 August 2019.
According to Dr Elize Kung, deputy dean of the faculty tasked with community engagement, the NWU's participation forms part of its overarching Mandela Day campaign.
During the event, the faculty will also pay homage to the legacy of Prof Kobus Lombard who initiated this collaboration in 2018.
"Through our involvement the faculty aims to make a meaningful impact on the lives of the young learners, and by doing so stay true to the NWU's ethic of care," explains Dr Kung.
This year will see more than 400 children – representative of 14 schools across central South Africa – taking part in several events. These events include walking with assistance (50 m, 80 m and 100 m), crawling, a wheelchair derby, goal kicking and goal shooting.
The 2019 event marks the 24th rendition of the sports day and according to the organisers it promises to be another memorable day.
The event will commence at 08:30 and all activities will take place at the school in Vereeniging.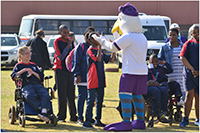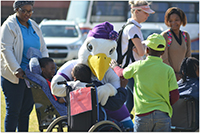 Vuvu, the campus mascot, makes friends during the 2018 sports day.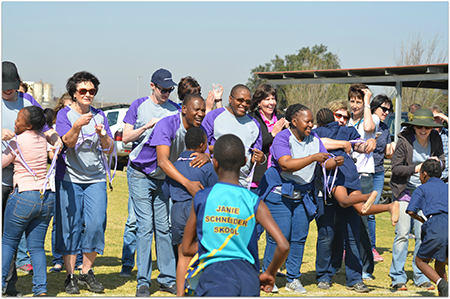 Members of the Faculty of Education support the young participants during last year's event.