NWU expert shares expertise in China on behalf of SA
A North-West University (NWU) expert on the fight against desertification recently shared his knowledge and experience in this area with experts from across the globe.
Prof Klaus Kellner from the School of Biological Sciences and the Unit for Environmental Sciences and Management represented South Africa at the September meeting of the Committee for Science and Technology for the Conference of Parties (COP13) of the United Nations Convention to Combat Desertification (UNCCD) in Ordos, Inner Mongolia, China.
He also attended the UNCCD's preparatory meeting for COP13 in Kenya and represented the Committee for Science and Technology of South Africa in the African Region for the UNCCD.
Prof Kellner is also on the roster of experts for natural resource management for the Department of Environmental Affairs in South Africa at the UNCCD. For the past 12 years he has represented the country at national and international meetings as science and technology correspondent for soil degradation and desertification.
Prof Kellner was also the chairperson of the African Union meeting at the UNCCD-COP13 that was held to discuss the role of science. He recently completed a report for the African Union's body, Semi-arid Food Grain Research and Development, on "Strengthening the role of science and technology in combating desertification in Africa".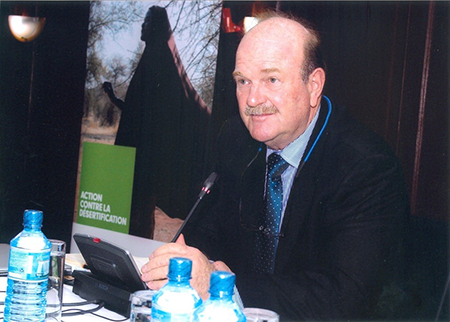 Prof Klaus Kellner at the preparatory meeting in Kenya.