NWU combines expertise to take sports development to new heights
It is a well-known fact that the North-West University (NWU) has delivered world-class international athletes such as Caster Semenya, Willem Coertzen, Elroy Gelant, Sunette Viljoen, Khotso Mokoena, Lood de Jager and Akker van der Merwe, to name but a few.
All of these athletes were supported by the NWU's High-Performance Institute and its sports scientists. Due to the NWU's state-of-the-art facilities and highly specialised researchers and staff, more than 1 000 athletes from all over the world choose the NWU for their pre-season training and preparation every year.
Now, the NWU is taking its level of expertise to even greater heights with the birth of the new NWU Centre for Health and Human Performance (CHHP).
According to Prof Pieter Kruger, world-renowned sports psychologist and part of the driving force behind the establishment of the CHHP, the aim is to combine the expertise and experience of the NWU's Institute of Psychology and Well-being, Institute for Sport Science and Development, as well as the Institute for Biokinetics.
"This will create synergy between all the professionals in the various institutes to allow maximisation of the services, teaching, learning, training and research opportunities," he says.
"A part of the NWU's Strategic Plan 2015–2025 is about empowering people through quality education, world-class research and the meaningful implementation of expertise. We are committed to employing strategies and processes that will be aimed at achieving sustainable competitive advantage, responsible and risk-embracing in design and implementation, intelligence-informed, credible, optimally participative, while being leadership-driven and collectively owned."
The CHHP will be aligned in strategy with the internal and external success model of the NWU, and will deploy a competitive strategy that will benefit the NWU, the CHHP, staff, students and clients.
"In line with this strategic focus, the CHHP's main aim will be to become the most respected and influential service delivery centre of its kind in the country through the implementation of expertise. In turn, the CHHP will be able to offer the best training placements for interns, have expert staff who can teach in postgraduate training courses, and also conduct meaningful and relevant applied research," he adds.
The CHHP will be able to render comprehensive, quality, evidence-based services in the fields of physical and mental health and human performance. These services will be applicable and make a meaningful difference to businesses, elite and other sports teams, the general public, staff and students at the NWU, as well as the students and interns at the CHHP.
Prof Kruger says the NWU's CHHP brand is the sum of all the experiences they create for everyone who comes into contact with them. "We are experts in health and human performance. At our core is our ability to take our leading scientific expertise and apply it with excellence to all our diverse services, clients and students. This means that understanding human performance and health in a variety of contexts is at the heart of everything we do.
"Understanding people is a highly specialised job, especially in the fields of physical and mental health, business and sports performance. With the academic credibility and backing of the NWU, our strategic partnerships with national and international organisations, combined with our business acumen and quality services, we are in a unique position to become the preferred institution for any health and human performance services on a national level," Prof Kruger concludes.
The NWU Centre for Health and Human Performance can be contacted on:
Email: chhp@nwu.ac.za
Phone: 018 299 1737
Web http://health-sciences.nwu.ac.za/chhp
The CHHP's key focus areas include:
Service delivery
Training and supervision of postgraduates and interns (psychology and biokinetics)
Academic training of undergraduate and postgraduate students
Active research and supervision of applied research students
The focus of the subdivisions includes:
Institute of Psychology and Well-being (IPW):
Clinical services: adults, adolescents and children
Elite sports services: well-being and performance
Corporate health and performance services
Training of intern psychologists
Training and research: clinical, counselling and research psychology
Institute of Sport Science and Development (ISSD)
Talent identification in all sports context
Sports performance matrices
Anthropometrics
Elite athlete testing
Training programmes for sports people and teams
Coaches development
Institute of Biokinetics
Health promotion and disease prevention
Clinical: management of clinical conditions (cardio-respiratory, metabolic, immunological, endocrinological, neuromuscular)
Special populations: pregnancy, geriatrics, children and mental health
Corporate wellness: risk screening, exercise, stress and behaviour change interventions
Sports services: Injury prevention and rehabilitation
Musculoskeletal services
Training of biokinetics interns and students
Research facility for observational and intervention studies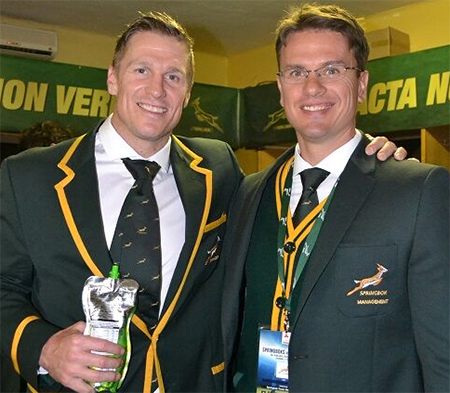 Prof Pieter Kruger (right) and Jean de Villiers.