Natanya is blazing a trail of entrepreneurial excellence
Natanya Meyer is on a mission: to break new ground for entrepreneurs all over, be it through education, research, mentoring or progressing one of her own start-up ventures.
As a lecturer in entrepreneurship at the North-West University's (NWU's) campus in Vanderbijlpark, Natanya believes in leading by example and as such she was the proud owner of three start-up businesses, namely Econ Solutions Town Planning Consultants, Perspampoen Art Gallery and New Leaf Landscaping.
During 2018 she will represent the university in several high-level management committees, including the Department of Higher Education's Community of Practice (CoP) for Entrepreneurship Development in Higher Education, as well as the Golden Triangle Chamber of Commerce. She is furthermore a member of the Business Women's Association of South Africa.
As an alumna of the NWU, Natanya completed both her undergraduate and postgraduate studies at the campus in Vanderbijlpark. She will be submitting her doctoral thesis (in entrepreneurship) for examination later in the year. 
A passion for entrepreneurship and the youth
Natanya is closely involved with the student activities of the NWU's bhive Enterprise Development Centre (EDC), an entrepreneurial hub in the Faculty of Economic and Management Sciences. It is especially in her role as the coordinator of YEBO – the Young Entrepreneurs Business Organisation, that her passion for the next generation of entrepreneurs is evident. As a mentor she aims to motivate students and young graduates to consider entrepreneurship as a viable career option. She explains that the importance of entrepreneurship is underpinned in the National Development Plan for South Africa and as such offers an effective method to counteract the crisis of youth unemployment.
Her teaching philosophy is built on the premise that experience should bridge the gap between theory and practice and as such, she incorporates practical exposure to real life business scenarios in her lectures. As part of her assessment planning she also frequently invite local business owners and members of various business champers to engage with her students on topics such as business plans and integrated campaigns.
In 2017 she was, as an executive member, one of the driving forces behind the Golden Triangle Chamber of Commerce's successful initiative to launch a Young Business Chamber for the Vaal Triangle region.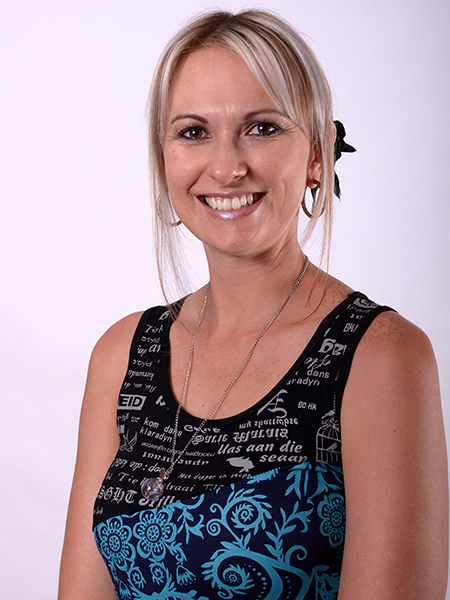 Natanya Meyer.