Much-needed leadership to support the tiniest humans
A few decades ago it was quite common for premature babies to die before their parents had even had the chance to hold them in their arms for the first time. The smaller the infant, the lower the chances of survival were.
However, during the past few decades, the survival of these tiny infants has received a lot of attention and their survival rate has increased dramatically due to advances in technology and pharmacological care.
Prof Welma Lubbe, a researcher at the North-West University's (NWU's) School of Nursing, has dedicated her professional life to the survival and optimal development of premature babies.
According to research, preterm infants are, among other things, at risk for neurodevelopmental challenges, including learning disabilities, moderate to severe developmental delays such as cognitive and motor impairment and cerebral palsy, attention deficit hyperactivity disorder, and increased anxiety and depression.
"The World Health Organisation (WHO) stated that experience from developed and low- and middle-income countries has clearly shown that appropriate care of the infant with a low birth weight can substantially reduce mortality," says Prof Lubbe.
"Appropriate care includes feeding, temperature maintenance, hygienic cord and skin care, and early detection and treatment of infections and complications, including respiratory distress syndrome."
In line with the WHO's recommendations for caring for infants with a low birth weight, Prof Lubbe has recently launched a countrywide research project. This project aims to promote neurodevelopmental supportive care (NDSC) as a fundamental, underlying care approach that contributes to improved short- and long-term outcomes for preterm infants in both public and private acute-care settings in South Africa.
She says this type of care not only affects survival, but also contributes to quality of life in survivors. The focus of her research project is on the quality of life of the infants who are surviving, since this is often under-recognised.
"The effect of neurodevelopmental supportive care is well researched, but it is not always practised as a comprehensive model of care in all South African neonatal intensive care units (NICUs). This research is aimed at implementing neurodevelopmental supportive care (INDeSC) to protect and support preterm infants' development in all neonatal units in South Africa," she says.
"The multi-site research project brings various approaches together. It is an implementation research project that is merged with the leadership development of healthcare professionals from various disciplines."
Funded by the South African Medical Research Council, the first phase of the project recently kicked off when healthcare professionals from all over the country attended a leadership development workshop in Potchefstroom.
The aim was to develop awareness of this model of care in neonatal wards in South Africa and equip selected supporters with the skills to guide the implementation in their facilities.
The leadership development segment of the project focuses mainly on the following aspects:
Identifying and training a leadership cohort to drive implementation in various facilities.
Leadership capacity building to ensure the personal development of participants and project sustainability.
Identifying barriers and benefit levers towards leadership development and NDSC implementation in the neonatal health sector in South Africa.
Developing postgraduate research students (multi-professional).
Planning and shaping research projects for junior researchers (multi-professional).
Prof Lubbe says healthcare providers working in neonatal settings are motivated to follow the neurodevelopmental supportive care approach, but since the implementation is fragmented and – in some instances – totally absent, the assumption cannot be made that South African NICUs are developmental-care compliant.
"It is clear that although healthcare professionals may have some exposure to developmental care in their training, either at undergraduate or postgraduate level, or in clinical practice, the care model is still not internalised in the South African neonatal units."
One of the attendees of the workshop, Carli Dietrich, a medical doctor by profession, says there is a great need for healthcare professionals to be exposed to this training.
"This is putting the focus back on the premature baby. Usually, one tends to just get the job done. In a way, this training makes it personal again. I was taught a few things here that one does not necessarily learn in medical school. These skills will equip any healthcare professional to do her job even better," Dr Dietrich says.
Dipna Morar, an attending physiotherapist, agrees. "I always found it difficult to implement proper neurodevelopmental supportive care in practice. With Prof Lubbe's training and support, I now feel empowered to do more to implement this with a much higher chance of success. For me, this training brought new passion to my field and has refined that feeling of the need for your patients to thrive."
According to the United Nations Children's Fund, 14,6% of all infants born in South Africa have a low birth weight or weigh less than 1 500 grams at birth. Many of these babies survive, but their developmental outcome does not necessarily improve in line with increased survival rates.
The poor quality of developmental outcomes has a direct impact on the long-term development and functionality of individuals during infancy, child- and adulthood. Development and functionality during these life periods in turn have a direct impact on the social and economic structures of a country, with poor functionality resulting in a socio-economic burden on caregivers and the healthcare system.
Prof Johann Jerling, director of the African Nutrition Leadership Programme and co-worker on this project, says the initiative is yet another milestone in the growth path of their research to improve the lives of those who are dependent on others.
"This first intensive leadership development training programme will be followed up with monthly activities to support nine hospitals to implement the programme as part of their standard care for premature babies. The project will be many years in the making and it is wonderful to work with such an enthusiastic, multi-sector team of nurses, physiotherapists, doctors and hospital administrators to improve outcomes in hospitals," he says.
The next segments of the project will be rolled out soon and will again involve healthcare professionals from all disciplines and from across the country.
"This project will contribute to the much-needed change in the care and neurological development of our premature children. We believe and agree fully with Frederick Douglass, who stated that it is easier to build strong children than to repair broken men," Prof Lubbe concludes.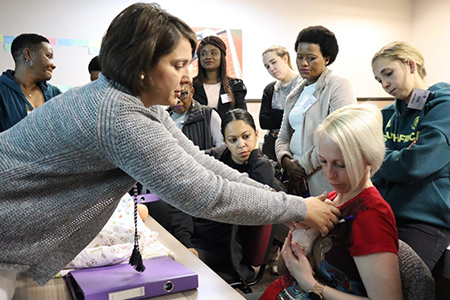 Prof Welma Lubbe demonstrates how a premature infant should be held during the recent leadership development workshop in Potchefstroom.