Mobile gamer completes the ultimate quest: a PhD
So you think you are somewhat of a champion when it comes to Candy Crush? Think again! A 26-year old just received his PhD in mobile gaming during the recent autumn graduation ceremonies at the North-West University's (NWU's) campus in Vanderbijlpark.
Dylan Price has been gaming for as long as he can remember – from the day he got his first Sega video game, he was hooked.
This hobby and passion led to a PhD in economic and management sciences with marketing management. His thesis was titled "Modelling the antecedents of mobile gaming brand loyalty amongst Generation Y students".
Dylan's study developed and tested a structural model that determined the influence of satisfaction, challenge, game identification and flow on South African Generation Y students' mobile gaming brand loyalty.
The study built forth on the research that he conducted for his master's dissertation. It provides valuable insight for organisations seeking to utilise mobile games as a platform to reach the lucrative Generation Y market segment.
Dylan started off his tertiary studies with a BCom in sports management, and also completed his honours and master's degrees at the campus, both with distinction.
During his time at the NWU, Dylan was part of the Teaching and Research Assistant Programme, and he has already published two articles in reputable international journals.
After getting married in December 2018 and moving to George, Dylan now heads up the Digital Marketing department of a large consulting firm.
He advises anyone who is considering the pursuit of a PhD to get ready for eight-to-five weekends. "Choose your supervisors wisely – they make all the difference. Mine sure did," he says.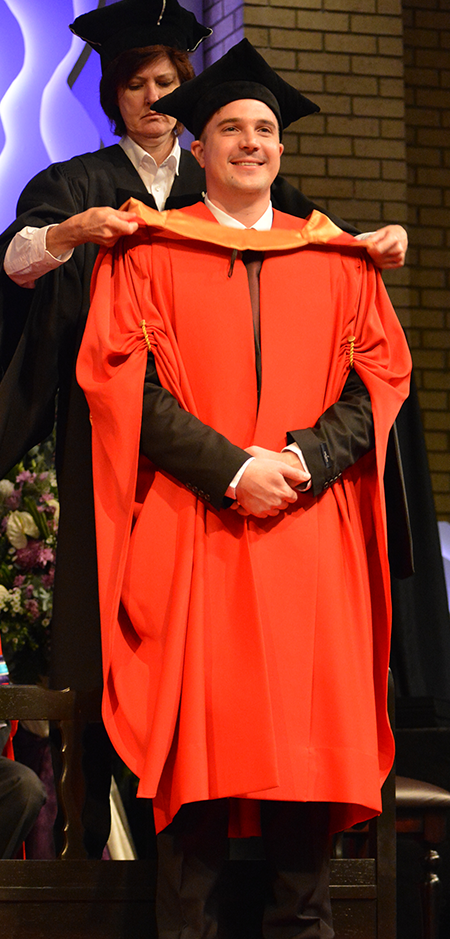 Dr Dylan Price