Metals in bird eggs a source of concern in Orange River catchment area
The heron that laid the golden egg? Scientists from the North-West University (NWU) have found several metals and metalloids in bird eggs in the catchment area of the Orange River which could pose a potential health risk to humans.
Prof Henk Bouwman from the Faculty of Natural Sciences says this study was part of a larger project to determine environmental management priorities for the catchment areas.
For testing purposes, eggs of water birds such as herons, hadedahs, glossy ibises, darters, cattle egrets and reed cormorants were collected at 16 dams, pans and rivers in the area of Baberspan, Bloemhof Dam, Soweto and Potchefstroom.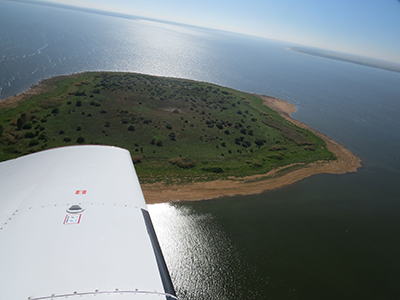 An aerial photograph of Snake Island in the Bloemhof Dam where a large breeding colony of water birds was discovered. The breeding colonies were identified from an aeroplane due to the size of the area.

High concentrations of gold (Au), uranium (U), thallium (TI) and platinum (Pt) were found in the eggs of grey herons at Baberspan. Great white heron eggs from Bloemhof Dam contained high concentrations of mercury (Hg).
He says due to mining and industrial activities in the catchment areas, they also found other metals such as copper (Cu), selenium (Se), lead (Pb), zinc (Zn), tin (Sn), iron (Fe) and cadmium (Cd).
Eggs show contamination
According to Henk, water birds are excellent bio-indicators of their aquatic environment because they depend on water for survival and are relatively high in the food chain. "Bird eggs have often been used to test environmental contamination."
He says the eggs are relatively accurate representations of the levels of contaminants present in the mother's body.
"Oddly enough, the only previously published data on metals in African bird species concern a small number of darter eggs from Hartebeespoort Dam, collected in 1974. Therefore, this study is the largest study of its kind ever to be published in Africa."
The need for more research
Henk says the Orange-Senqu River Basin, the largest river basin in South Africa, encompasses areas of social, economic, ecological and biological importance for the country, and supports approximately 14,3 million people. Their research was conducted in the tributary of this basin – in the Orange River's catchment area – which supplies water to 40% of the country's population and around which prominent mining and industrial activities occur.
The eggs were kept on ice and frozen within 24 hours. Upon thawing, the shells were cracked and the contents homogenised ultrasonically, and then freeze-dried. These eggs were collected between December 2010 and February 2011, as the different bird species have different breeding seasons.
Henk says their study confirmed that more research is needed to determine the potential negative effect of the accumulation of metals and metalloids on humans and their environments, as well as the negative impact on nature.
"Grey herons eat fish, just like humans, which means that humans are exposed to the same contaminants. Humans may even collect wild bird eggs as a food source, and it is known that metals such as uranium and mercury have a detrimental effect on human health."
Their recommendation is that the pollution in the Orange River's catchment areas cannot be ignored and that the matter warrants further investigation.
Henk, Veronica van der Schyff (a postgraduate student), and Prof Rialet Pieters conducted the research. Other members of the research team are currently researching metals in penguin, crocodile and sea turtle eggs.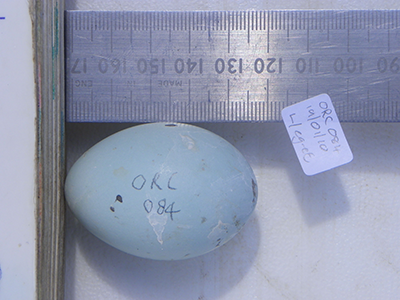 The researchers analyse and document the composition of the egg of a little egret.