Jonker brothers soar to greater heights
Many pairs of brothers have made their mark in the history of aviation. Just think of the Wright brothers, the Bell brothers and the Taylor brothers. However, the Jonker brothers from Potchefstroom are second to none and in the past 10 years have stirred up the world glider market with their business, Jonker Sailplanes.
Their revolutionary JS1 model has received several international awards in the past decade because of this glider's superior technology and effectiveness. Jonker Sailplanes recently made another big announcement. The JS1's newly launched baby brother, the JS3, features improved technology such as aerodynamics, control systems, dashboard and a brand new set of wings that are six metres shorter than those of its big brother.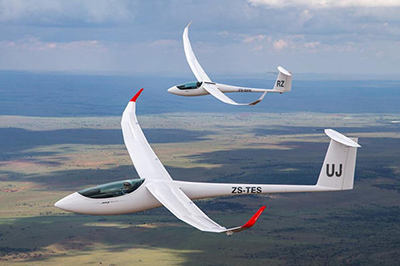 Jonker Sailplanes's innovative new glider, the JS3, is not only light but can also reach a speed of 290 km/h in the right conditions.
Jonker Sailplanes is very well known among glider enthusiasts around the world. All the international awards heaped on the JS1 have turned this highly competitive market on its head. With more than one hundred JS1s sold worldwide so far, Prof Attie Jonker and his brother Uys and their team are now regarded as world leaders in the industry.
Flying is an amazing experience
Attie, who is also a senior lecturer at the North-West University's (NWU's) Potchefstroom Campus, recently carried out the maiden flight in the JS3. "It was an amazing experience. This new glider exceeded our wildest expectations. The handling was phenomenal, and before I knew it I was sitting on top of the world in a super sailplane that I helped to design," says Attie. Uys conducted the second test flight. "I knew we built a fine sailplane, but I was still pleasantly surprised. The JS3 is by far the best 15 m class sailplane that I have ever flown."
The JS3 weighs a mere 266 kg and can reach a speed of 290 km/h in the right circumstances. Dr Johan Bosman, co-owner of Jonker Sailplanes, and also a lecturer at the NWU's School of Mechanical Engineering, was responsible for the aerodynamics of the new glider. "After almost five year's research, a PhD study and 15 engineers collaborating on the new design for a period of 10 months, the JS3 is finally a winning formula. Currently we export about 90% of our gliders to other countries, and we are very excited about introducing it to the market. I believe the JS3 has once again lifted the bar for us."
Love passed on from generation to generation
The Jonker brothers inherited their love for sailplanes from their father, Tienie Jonker. Many years ago he built his own sailplane in his garage, which is where his sons' facination with aviation began...
The dean of the Faculty of Engineering, Prof LJ Grobler, congratulated Jonker Sailplanes on their innovative new glider. "The NWU is proud to be associated with Jonker Sailplanes. We wish them all the best in their endeavours and look forward to seeing how the new JS3 will be received by the market."