Graduation ceremony signals dawn of new generation of impact makers
"A graduation ceremony is essentially a symbolic recognition of a new generation of leaders, opinion-makers, experts, artists, scientists and entrepreneurs. In short: a day when the doers of tomorrow step to the fore to be counted as proud stewards of sustainability, innovation and progress."
This is according to Prof Linda du Plessis, deputy vice-chancellor for planning and Vanderbijlpark Campus Operations, during the North-West University's (NWU's) recent autumn graduation ceremonies hosted in Vanderbijlpark.
The four-day graduation ceremonies saw 1 633 graduates crossing the stage. Of these, 40 represented master's degree recipients and 21 doctorates.
In her address, Prof Du Plessis applauded the graduates for their hard work and perseverance during the course of their studies. She also said that the graduation stage bears witness to the NWU's commitment towards excellence and multiplicity and that each graduation ceremony should be remembered as a celebration that transcended the boundaries of language, creed and culture.
"Today your world-class education elevates you to a new level of consciousness and accountability. An NWU degree represents not only the reputation of an internationally recognised university, but also creates trust, signals confidence and sparks hope for a better country and continent."
In closing, Prof Du Plessis said that each graduate now launched him/herself from the starting blocks and that learning should never be seen as a final destination. According her, knowledge and high-level thinking skills are critical, especially within the South African context where major skills shortages pose great challenges to business and industry.
 
"It is precisely from this starting block that you must continue with the undertaking of lifelong learning and contribute towards the achievements of our alumni – nationally and internationally," said Prof Du Plessis.
Doctoral graduates applauded for academic excellence
The following graduates obtained their doctoral degrees:
Faculty of Economic and Management Sciences
Eleanor Meda Chipeta
Susara Johanna Ferreira
Thomas Habanabakize
Fathima Essop Mohamed
Thabang Theophillus Mareka
Chantel Muller
Michael Takudzwa Pasara
Dylan Gene Price
Kazeem Abimbola Sanusi
Johannes Hugo van Schalkwyk
Pieter Jacobus van Schalkwyk
Faculty of Health Sciences
Carlien Kahl
Faculty of Humanities
Cecilia Johanna Erasmus
Michael Peters Kiganda Galukande
Lizanne Gerber
Hilda Jaka
Anna Petro Maritz
Gordon Derrac Matthew
Innocent Nuwagaba
Maristi Partridge
Faculty of Natural and Agricultural Sciences
Frederick Jacques van der Westhuizen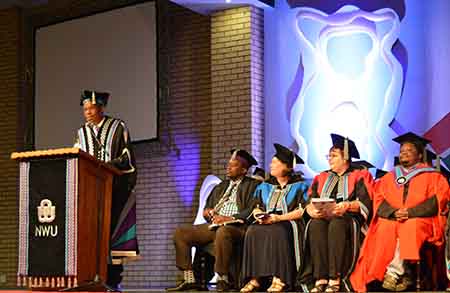 Prof Dan Kgwadi, NWU Vice-Chancellor, officiated the start of the campus's autumn graduation ceremonies.