Golden Key welcomes new academic achievers
The recent new member recognition ceremony of the Golden Key International Honour Society saw a total of 250 students from the North-West University's (NWU's) campus in Vanderbijlpark being welcomed into the fold.
In her address, Dr Elmie Castleman, director for the Southern African region of the society, congratulated the students with their newfound membership to this prestige international honour society. She said that the NWU chapters of Golden Key have seen vibrant growth over the years.
She also explained the prestige of a Golden Key membership, stating that the society is affiliated globally with more than 400 universities throughout Australia, Canada, India, Malaysia, New Zeeland, South Africa and the United Sates.
The society's mission is to enable members to realise their potential by connecting individual achievement with service and lifelong-learning opportunities. Golden Key South Africa – as officiated in 2000 – has thus far touched the lives of more than 70 000 young South Africans.
The ceremony saw South African actor, dancer, singer, comedian, writer and director – Nhlanhla John Lata – take to the stage as the keynote speaker.
In his address he focused on the characteristic traits of leaders and emphasised the value and impact of servant leadership. "The servant leader is a servant first and his or her role manifests itself in the care taken to make sure that other people's highest priority needs are being served," explained Nhlanhla. He added that servant leaders are driven to make their communities a better place for all.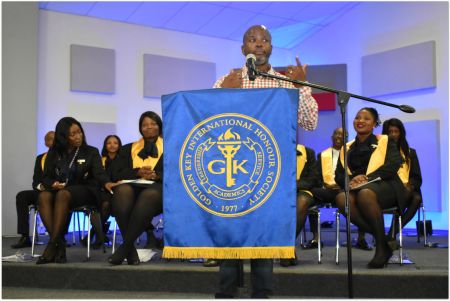 Well-known South African actor, Nhlanhla John Lata, delivered the keynote address.
Honorary members announced
During the ceremony Honorary Membership was presented to the following staff members: Tiisetso John Rantlo (Faculty of Law), Prof Johann Tempelhoff (Faculty of Humanities) and Prof Jaco Hoffman (Optentia Research Focus Area).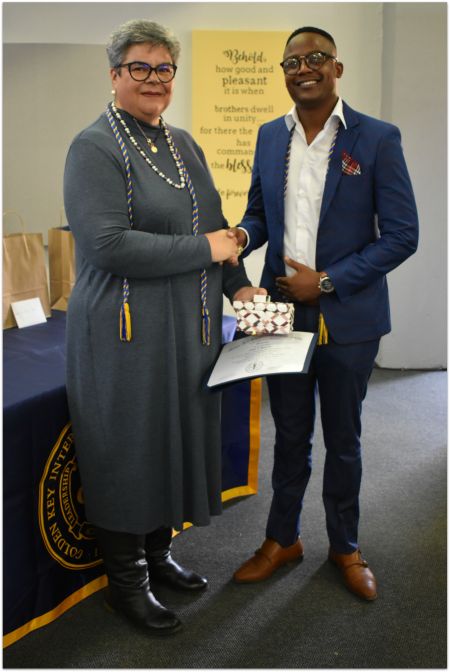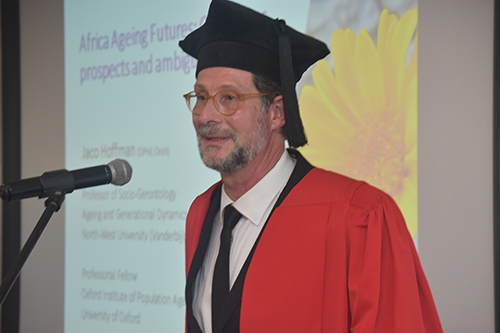 Dr Elmie Castleman, director for Golden Key South Africa, with Tiisetso John Rantlo and Prof Jaco Hoffman.  Prof Johann Tempelhoff received his honorary membership in absentia.
* Prof Linda du Plessis, the deputy vice-chancellor for planning and Vanderbijlpark Campus operations, serves as the primary advisor for the campus's chapter of the society. Ntokozo Tyapile is the co-advisor.