CANSA Relay for Life 2019: we are all in this together!
On 28 and 29 September 2019 the North-West University's (NWU's) campus in Vanderbijlpark will once again play host to the regional CANSA Relay for Life event in the Vaal Triangle.
This year will see the campus and the Cancer Association of South Africa (CANSA) taking hands for the seventh year running to celebrate cancer survivors, remember those who have succumbed to the illness, and to create awareness about cancer.
All members of the Vaal Triangle community are invited to lace up their running shoes and register relay teams to take part in the event. The theme for the 2019 rendition is "medieval" and young and old are challenged to dress according to the theme to contribute towards the festive atmosphere for which the event is known.
According to Ronell Mitchell and Jailey Richardson, two of the head organisers, the targets for this year's event is set at 2 000 participants and contributions totaling R400 000.
Register your team today!
If you want to take part in the relay, you should convene a team of 10 to 15 members. The teams can be representative of the corporate sector, friends and family members, clubs and schools and even NWU alumni.  In short: anyone and everyone are welcome.
Participating teams should register and agree to a team commitment fee of R700. You can register your team by contacting Ronell on 082 458 0878 or Jailey on 060 498 2195.
More about the event
CANSA Relay for Life is part of a global movement that unites cancer survivors and the communities that care about them, with each other. It offers everyone in the community the opportunity to participate in the fight against cancer and to honour those who have been touched by the illness. It furthermore represents a unique event that offers communities hope, that all of those lost to cancer will never be forgotten; that those who are fighting cancer will be supported, and that one-day cancer will be eradicated.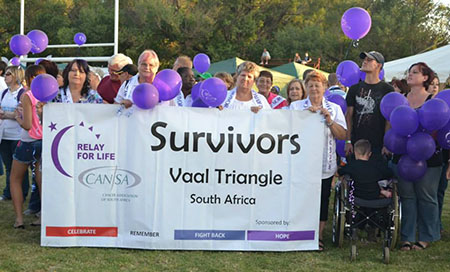 Participants during a previous CANSA Relay lining-up to complete their first relay lap.