Bridging the digital divide one township at a time
As the youngest-ever CEO of Project Isizwe  – the innovative Non-Profit Organisation (NPO) behind Africa's most successful free Wi-Fi network – Dudu Mkhwanazi (26) has her sights set on bridging the digital divide in South Africa.
More so, she is advising all South Africans to step-up and do their bit to increase internet access to low-income communities.
Since Dudu's appointment as CEO in August 2017, this dynamic alumna of the North-West University (NWU), has passionately advocated for internet access to be viewed as a basic human right similar to water and electricity. Most recently she hosted a business seminar via the popular TEDXtalk platform in Johannesburg. The TEDXtalk franchise represents an international platform from where innovative ideas are celebrated and shared with the world and by doing so, amplifying novel ideas and creative thinking.
During the seminar Dudu said that by elevating internet access to a basic human right, the South African government will accomplish much more than merely passing down pioneering legislation. She is of the opinion that the internet should be used as an empowerment tool that will yield both economic and social benefits.  
She sighted research conducted by the World Bank, indicating that for every 10% of broadband infiltration a growth of 1,3% in terms of a country's Gross Domestic Product (GDP) is recorded. "It becomes clear, especially in the South African context, that by subsidising internet access, the state will benefit from a sizable return on investment," says Dudu. She explains that in its simplest form the value of free internet hotspots – within walking distance – can be viewed in the same way as a communal tap: everybody benefits from it.
While free internet access remains a long-term goal, Dudu urges all South Africans on to do their bit to bridge the digital divide. She offers the following interventions as "quick wins" in the quest to assist fellow South Africans to become digital natives:
Share your Wi-Fi password with your domestic worker. More and more government departments – such as the education department – requires parents to register their children online and without internet access this simple task can be very daunting.
Keep a dongle in your bag and help someone who needs to send a quick email or apply online to further his/her studies.
If you are internet savvy, visit a local school and assist educators in searching and sharing information. These educators will then pass on these newly acquired skills to their learners and in the process hone their own professional skillset.
"Ultimately the conversation should not be about cheaper data, but on the sustainability and scalability of Wi-Fi projects," says Dudu.
* Dudu is an alumna of the NWU and studied at its campus in Vanderbijlpark from 2009 - 2012, during which time she obtained a BA and a BAHons in political science. She enjoyed an active student life and served on the Campus Student Representative Council (CSRC) for the term 2012/2013 in the portfolio: Constitutions and Societies Officer. As a strong academic contender she also acted as a tutor the subject groups of Political Science and Environmental History.
She further holds a master's degree in public policy analysis from Université Montpellier in France.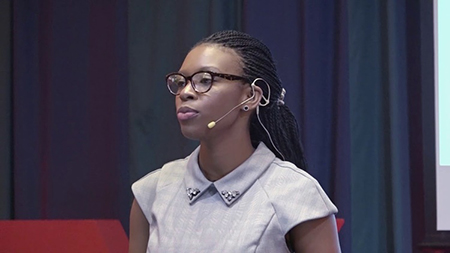 Dudu Mkhwanazi, alumna of the North-West University.