Alumnus dons regal robes as vice-chancellor
When rugby practice clashes with evening classes, some juggling is called for. Prof Henk de Jager – alumnus and vice-chancellor and principal of the Central University of Technology (CUT) – once walked a fine line between his sport and academics while studying at the North-West University's (NWU's) campus in Vanderbijlpark.
After obtaining his master's degree in engineering, Henk became interested in industrial psychology and started attending evening classes in 1988: three evenings a week from 18:30 to 22:40. Today, he is known as Prof Henk de Jager and he stands at the helm of CUT in Bloemfontein.
With almost three decades of experience in higher education, Henk certainly has earned this prestigious title. He spent five years as executive dean at the Nelson Mandela Metropolitan University and between 2012 and early 2017 he was deputy vice-chancellor at CUT.
His next major career milestone was on 30 June 2017, when he delivered his inaugural address as CUT vice-chancellor and principal.
Student life
"I recall being a bit late for class on Mondays and Wednesdays due to rugby practice."
Coming to class still dressed in his rugby jersey, the lecturers jokingly referred to him as "the rugby player who was always late for class".
The campus soon became his second home. He refers to Prof Marius Stander, Prof Joppie van Graan and Prof Dap Louw as his favourite lecturers in psychology and industrial psychology, and to Prof Wynand Grobler as his favourite lecturer in economics. "They were such excellent lecturers, very knowledgeable and wonderful people. I was privileged to be lectured by them."
Role model
He thinks of Nelson Mandela as his role model because he aims to lead by serving people. When asked about the legacy he wants to leave behind, Henk says he wants to make a difference in the lives of others and help as many as possible to reach their full potential.
Spending time in nature
He is married to Dr Miemsie de Jager who also obtained her PhD at the NWU's campus in Vanderbijlpark. The couple has two children, Melandie and Henko. The family likes visiting the Drakensberg when their busy schedules allow it.
Henk is an avid mountain biker and dreams of hiking the Skeleton Coast and of farming after retirement. At 52, that is still a few years off, meaning he still has quite some time to leave his footprints in the higher education sector. "You must be the change you want to see in the world. Never compromise your integrity and trust God for guidance in every situation," he says.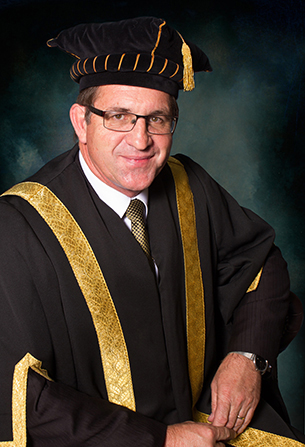 Prof Henk de Jager