Zanele joins alumni relations team
Zanele Ngobese might be the new kid on the block, but she is no stranger to the ins and outs of stakeholder relations.As the newly appointed alumni coordinator on the North-West University's (NWU's) campus in Vanderbijlpark, Zanele is excited about contributing towards the growth of the campus's dynamic alumni fraternity.
A former marketing and communications coordinator for BSK Marketing, a below-the-line strategic agency focusing on stokvels throughout South Africa, Zanele has a unique understanding and knowledge of diverse stakeholder groupings.
 Before joining BSK Marketing, Zanele worked at Hayley Upson Communications, the Western Cape Education Department and the Cape Peninsula University of Technology (CPUT). The latter served as her introduction to stakeholder management as she was part of both the alumni and recruitment teams.
A change of scenery
But why Vanderbiljpark? "I am a curious person by nature and I embrace every opportunity to learn and enrich my personal experiences. Having had the opportunity to work across South Africa, I decided that a change of scenery and perspective is necessary, and here I am!"
Zanele's most important priority is to forge meaningful, long-term relationships between the university and the alumni community. "I can't wait to enhance our database and interact with our alumni. Luckily for me, I am building forth on the success of my predecessor, Alwine Naude, who did a sterling job in growing the numbers of our alumni members," says Zanele.
She believes that a healthy alumni community is one of the most important assets of an institution – especially within the realm of tertiary education in South Africa.
Pay it forward
"The university invests significantly to ensure that its graduates are of world-class calibre and as such alumni members are in a position to pay it forward and pave the way for the generations to follow by sharing their knowledge and skills, says Zanele and explains that alumni giving is not limited to monetary giving, but also includes time, internships, guest lecturing and mentoring.
"Students remain the heartbeat of our institution and alumni – having been students themselves – can help to keep the NWU abreast of changes and needs within the job market.  After graduating, students complete a full circle and should then ideally remain ambassadors of prosperity and social justice. It is within this cycle that I feel I can make a contribution," explains Zanele.
Asked about her first impressions, Zanele admits that she had "goose bumps" when she first set foot on the campus in Vanderbijlpark. "Seeing the river and the animals while experiencing the harmony in which they coexist with the campus community, I knew I had made the right decision."
Zanele can be contacted on 016 910 3250 or by e-mail: zanele.ngobese@nwu.ac.za.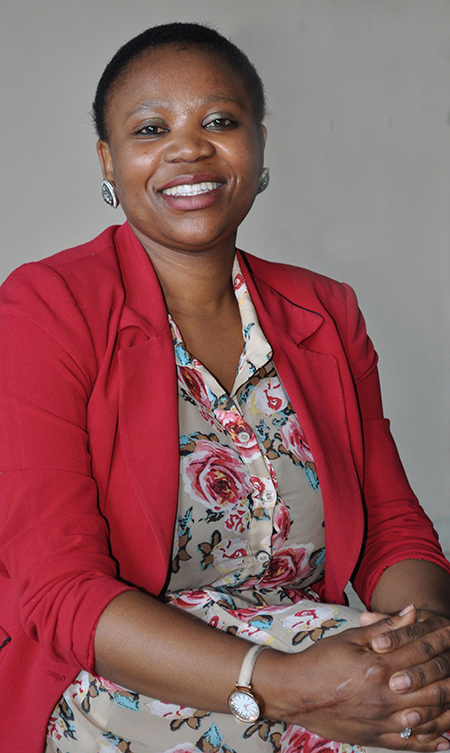 Zanele Ngobese.