Women in the arts in the spotlight
Women in the arts are currently the focus of artworks in the North-West University's (NWU's) art gallery at the Potchefstroom Campus.
The gallery, in collaboration with the National Museum of Women in the Arts in Washington DC, this month puts the spotlight on works of female artists, as well as on the works by women that the NWU has in its permanent art collection.
The manager of the gallery, Ms Christina Naurattel, said that they are also part of the global campaign on social media, #5WomenArtists, where people are challenged to answer the question "Can you name five female artists?" She says very few people can do that.
"This is a simple question with a difficult answer. Female artists have never received the necessary recognition from institutional and educational institutions. Our purpose with this exhibition is to promote the many discussions about gender equality in the arts."
The exhibition was opened on International Women's Day on 8 March during which visitors were spoilt with scrumptious coffee and cake. The exhibition runs till the end of the month.
Naurattel said that other institutions in Los Angeles, Illinois, Boston, New York, Houston, as well as organisations in Australia, Canada, Germany, Sweden, Switzerland and the United Kingdom also take part in the campaign.
Follow the NWU Gallery on social media for more information on the #WomenArtists campaign.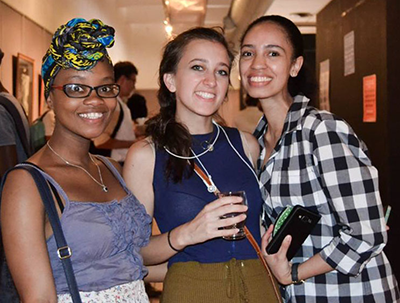 Three students attended the exhibition in the gallery, namely Jeanett Mosala, Isabelle Smit and Inga.