Wellness of North West communities is a priority
It is a disturbing fact that approximately 61% of the North West population is classified as impoverished. This alarming figure is the biggest contributing factor to the inadequate wellness of communities in this province, and according to the government it is an important social, economic and political developmental challenge.
The government needs active assistance, and this compelled the North-West University (NWU) to become involved in yet another community based initiative.
The Health Departments of North West and the Western Cape recently joined the NWU in launching the NOW! (North West On Wellness) health promotion initiative for the improvement of community wellness.
This initiative is based on the WOW! (Western Cape On Wellness) partnership programme that was established by the Western Cape government five years ago.
This dynamic programme has achieved great successes in communities, workplaces, healthcare facilities and public settings. WOW! empowers community members towards making healthier lifestyle choices through supported self-managed actions to prevent, reduce and better control chronic diseases such as heart disease, diabetes and obesity. WOW! promotes co-learning, action and responsibility for improved health and wellness.
The NWU's Africa Unit for Transdisciplinary Health Research (AUTHeR) approached the North West Department of Health, and after successful negotiations the WOW! healthy lifestyles partnership programme will now be contextualised and tested for roll-out as the NOW!  initiative.
Accordingly, the NOW! initiative will empower community members to make better lifestyle decisions and take responsibility for their own health.
AUTHeR performs multidisciplinary, interdisciplinary and transdisciplinary research to provide realistic solutions for real health and wellness challenges. Their research has made a real impact on society, with a focus on three areas, namely:
Health promotion and the activation of wellness
Sustainable diets as an essential part of wellness
Sustainable community development for wellness
According to Prof Petra Bester, director of AUTHeR, the provincial government is not supposed to take the sole responsibility for the various social and health responsibilities. "We realise that we also have to roll up our sleeves and offer the necessary aid and expertise where there is a need. Everything that we at AUTHeR take on is directly aligned with the National Development Plan for 2030.
"We approach our role from a holistic perspective for the promotion of the physical, psychosocial and mental wellness of our communities. After exciting discussions, the health department identified 10 individuals in North West to be trained to accept the responsibility for rolling out the NOW! initiative with the main purpose of creating healthier communities, while the initiative will strengthen existing healthcare systems," she says.
These wellness champions, as they will be called in the communities, recently received in-depth training from Prof Frederick Marais of WOW!, to co-create individual behaviour change and wellness-enabling environments with emphasis on increased physical activity, healthy eating and healthy weight management. The first group of champions comprise:
Six healthcare workers
One youth-centre coordinator
Two 'Love Life' representatives (HIV-prevention initiative)
One representative of the Office of the Premier
According to Prof Bester the fact that North West's healthcare systems are overburdened while many health activities can be handled at home, is one of the major problems leading to poor wellness. "Access and poor infrastructure are major challenges, but when these wellness champions start to empower communities to maintain healthier lifestyles in a sustainable manner, the pressure on the healthcare systems will automatically be alleviated."
The champions, who will work across the province, are each equipped with a set of portable equipment to present activities in the communities, give lifestyle counselling, and expose the individuals to better health habits. The equipment includes a blood-pressure monitor, scale, tape measure, stop watch, exercise balls, exercise cones, skipping ropes, exercise mats, recipe books, hula hoops.
 "We will be communicating with the wellness champions on a weekly basis to ensure the sustainability of the initiative," says Prof Bester.
"Another goal of this initiative is to grow the wellness-promoting network. We aim to continually identify more suitable individuals and train them as wellness champions. As the networks grow, they also present the opportunity to do further research on wellness within local communities."
As a highlight, the training for this collaborative initiative ended with a health promotion summit on Friday, 2 August, during which the MEC for Health and his team committed themselves to four strategic action areas towards strengthening health promotion in the North West province.
For more information about this initiative, please contact Prof Petra Bester at 082 298 3567 or (018) 299 2095.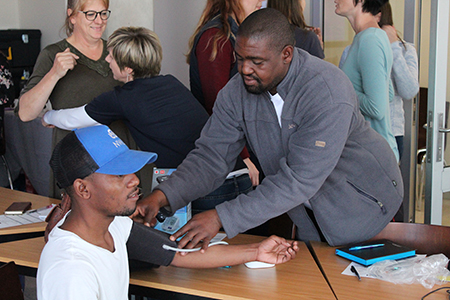 Wellness champions of the NOW! initiative in action.