Universities urged to aid UN goals
"Universities are becoming too vocational. There is too big a focus on jobs for today and not on jobs for tomorrow."
This according to Dr Geoff Scott, emeritus professor for higher education and sustainability at Western Sydney University in Australia.
On Monday, 20 May 2019, Dr Scott delivered the 18th of a series of public lectures hosted by Prof Refilwe Phaswana-Mafuya, deputy vice-chancellor for research and innovation. The lecture was titled "Social Enterprise, Internationalisation and Sustainable Development".  
Dr Scott's lecture was centred on how universities can help achieve the United Nations (UN) 17 sustainable development goals. These goals include quality education, gender equality, no poverty, clean water and sanitation, affordable and clean energy, as well as reduced inequalities. 
"We have a big opportunity to seize the day and build upon the UN's 17 social development goals," he said.
"The UN set out their sustainable development goals for 2030, and requested governments to involve universities to address these problems through their respective curriculums."
Dr Scott further emphasised social entrepreneurship, blue economy projects and how his own motto of listen, link, leverage up and lead can be utilised in these endeavours.
More about the expert
Dr Scott has more than three decades experience in studying major change and leadership programmes in schools and higher education institutions in Australia, South Africa, Cambodia, New Zealand, Canada, the United Kingdom and Scandinavia.
His book Turnaround Leadership for Higher Education, co-written with Michael Fullan, was shortlisted for the 2010 US Bellwether Award.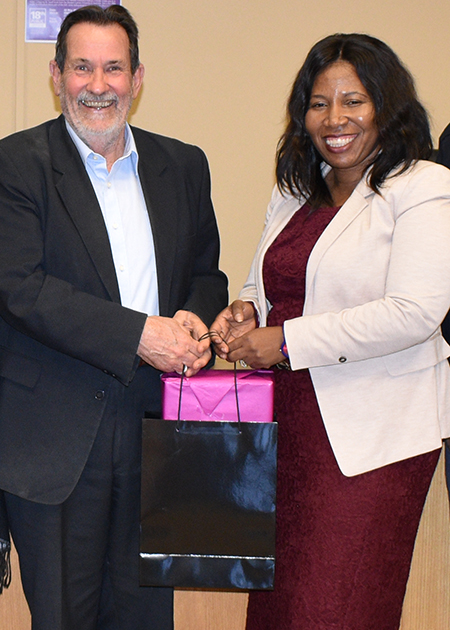 Prof Refilwe Phaswana-Mafuya, deputy vice-chancellor for research and innovation, congratulates Dr Geoff Scott on delivering a thought-provoking lecture.