Unique study focuses on the purchase behaviour female Generation Y students
The Autumn Graduation Ceremony of the North-West University's (NWU) campus in Vanderbijlpark saw Riané Cherylise Dalziel proudly take to the stage to receive the degree Doctor of Philosophy in marketing management.
Riané – who was born and bred in Vereeniging – investigated the factors that influence South African female Generation Y students' purchase behaviour of beauty products. By means of her study she developed and empirically tested a structural model of the factors that influence female Generation Y students' purchase intention towards beauty products.
The findings of the study indicate that female Generation Y students have a favourable attitude towards beauty products and that these attitudes, together with subjective norms, price consciousness and product innovativeness, have a direct influence on their purchase intention towards beauty products. According to Riané's study promotor, Prof Natasha de Klerk, the findings of this study contribute to the literature on female Generation Y consumer behaviour, both in South Africa and internationally. Moreover, the recommendations emanating from this study serve as valuable marketing strategy guidelines for beauty product marketers targeting South Africa's Generation Y cohort.
More about Dr Dalziel
Riané matriculated in 2005 from Hoërskool Drie Riviere in Vereeniging. In 2006 she enrolled for a BCom degree in chartered marketing, which she completed in 2008 at the NWU's campus in Vanderbijlpark. After graduating she completed a Postgraduate Certificate in Education with distinction in 2011. In 2012 Riané completed a BCom Hons in entrepreneurship and marketing with distinction, followed by a MCom in 2013. The title of her master's dissertation was "Hedonic and utilitarian shopping motivations among South African black Generation Y students."
She was part of the Teaching and Research Assistant Programme at the campus and is currently a lecturer at her alma mater.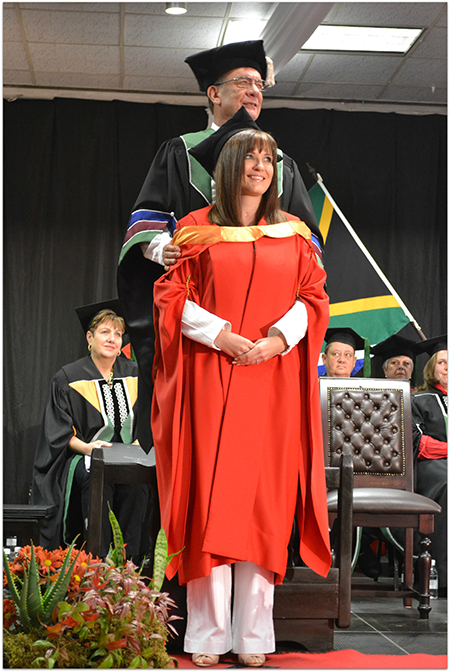 Dr Riané Dalziel and the campus registrar, Mr Neels Vermeulen.