Unique instruments and equipment made right here at the NWU
Instrument Manufacturing on the NWU's campus in Potchefstroom often manufactures equipment that cannot be found anywhere else in the world.
Every day is different at this workshop, which is constantly planning and carrying out new ideas and designs, according to the head of Instrument Manufacturing, Pieter Erasmus.
After more than 20 years with the Faculty of Engineering, Instrument Manufacturing became part of the Faculty of Natural Sciences in January this year, since most of the work it does is for this faculty.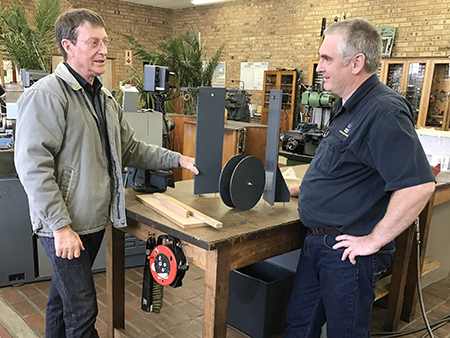 Pieter Erasmus and Thys Taljaard discussing one of the projects on which they are currently working.
Supporting researchers
Lecturers and postgraduate students regularly ask them to design equipment for their research. "We then discuss together what they need, complete the design, and when the design has been accepted, the equipment, which is one of a kind in the world, is manufactured," Pieter says.
They manufacture equipment from materials such as stainless steel, aluminium, Teflon, nylon, platinum and titanium. They also service and repair microscopes and recently even repaired many tables in the kitchens of the dining halls.
 "The equipment is also often linked to electronics, with which Electronic Services on the campus usually assists."
The workshop boasts sophisticated equipment and one of these machines, a five-axle milling machine, was imported from Germany at a cost of around R1,3 million. This machine can work on five axles at different angles. (Milling is the removal of material by means of drilling or gouging.)
Glassblowers trained
Probably one of the oldest businesses on earth, glassblowing, is also practised at the unit, which makes everything from simple laboratory test tubes to much more sophisticated and unique equipment.
Pieter recalls how he struggled to find someone to train a glassblower for some of the smaller projects. Then one day, a man from the Netherlands, Dick Witteveen, walked through the door and volunteered his services as a visiting researcher. During his stay in the country Dick trained Johan Broodryk, who was in charge of the glassblowing operations for 35 years until his retirement at the end of last year. Trevor van Niekerk, a senior technician, has taken over from him.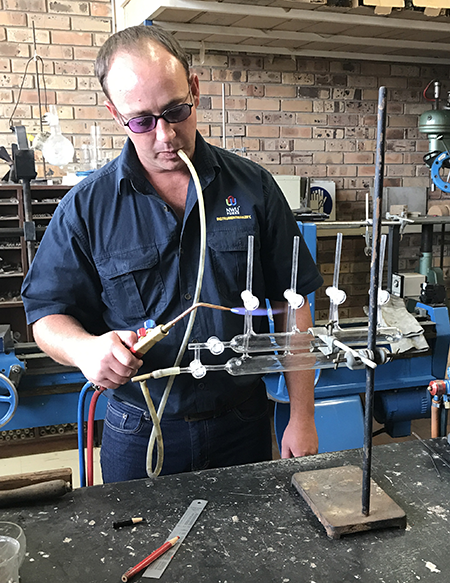 Trevor van Niekerk puts the final touches to his glassblowing.
Instrument Manufacturing – and the glassblowing – goes even further back.  The unit has existed for approximately 65 years, and the very first glassblower for the Faculty of Natural Sciences, Mr PI Jongbloed from the Vrije Universiteit in the Netherlands, was appointed in 1952. Approximately £3 000 was made available at the time to purchase mechanical equipment.
From these humble beginnings, Instrument Manufacturing grew and today employs six people, all of whom are kept extremely busy making unique instruments and equipment.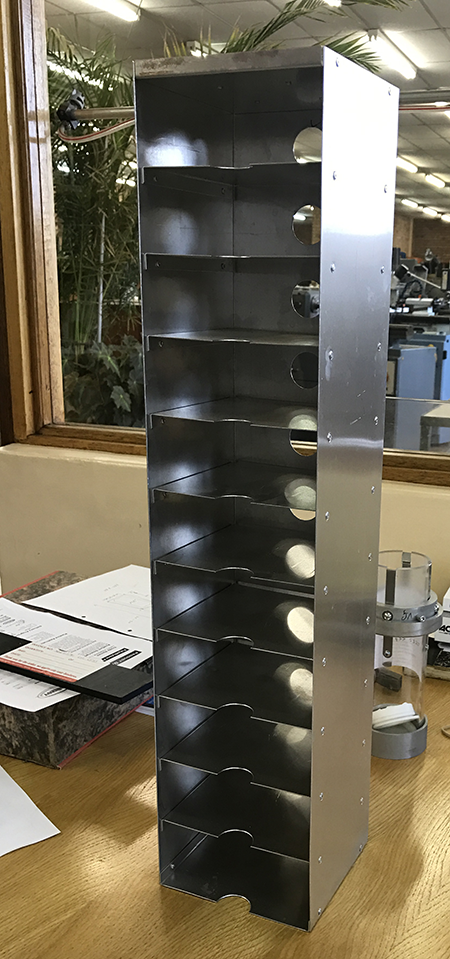 This unique, compact product from Instrument Manufacturers is a space-saving way to store biological samples in a chest freezer.