UARM talks risk culture with NWDC
When it comes to expertise the North-West University's (NWU's) Centre for Applied Risk Management (UARM) is regarded as the frontrunner in the behavioural risk management field, and specifically on the pertinent topic of risk culture.
Just recently the centre – which resides within the Faculty of Economic and Management Sciences on the NWU's campus in Vanderbijlpark – presented a successful workshop on risk culture for executive and senior management team members of the North West Development Corporation (NWDC) at Manyane Resort Pilanesberg.
The workshop was presented by Prof Hermien Zaaiman (associate professor and manager: UARM) and Mr Fred Goede (senior lecturer: UARM).
According to Mr Bafana Mabale, the NWDC's head of risk, the interactive workshop was not only informative but also very insightful. He furthermore stated that attendees were empowered with innovative behavioural risk management solutions to assist them to manage the risks connected to their roles. "The NWDC is proud to have been associated with UARM in this training venture", said Mabale.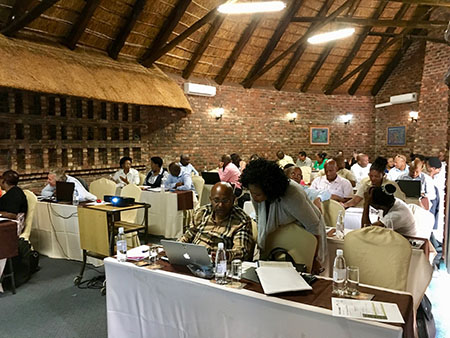 NWDC workshop attendees doing group work on risk culture during the workshop. Front right, seated, Mr Tshepo Phetla, CEO of the NWDC, who also attended the workshop.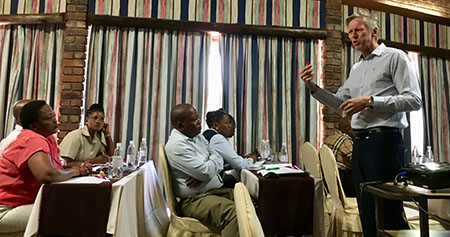 Mr Fred Goede in action during the workshop.