Top performing MBAs awarded
No fewer than 55 graduates recently obtained their MBA degrees from the North-West University's (NWU's) Business School. During a lavish occasion held in Potchefstroom, these students who took the bull by the horns were honored for their hard work and perseverance.
Prof Fulu Netswera, the director of the Business School, thanked the graduates' spouses for their support and patience during the MBA journey.
"I know it wasn't easy. It requires a lot of hard work into the night and many sacrifices have been made. Thank you for that. Also, to all the lecturers and supervisors. You have once again put in a lot of effort to in order for these MBA graduates to successfully complete their studies," he said.
Prof Ronnie Lotriet, the MBA programme manager, congratulated the graduates and said that this course is only for the bravest.
"In the current economic times, we need more economical scientists – MBA graduates like yourselves. We look forward to seeing where your MBA qualification will take you in your career. The world is your oyster, but is also an elective. So, choose well! We would also like to give great recognition to ABSA, PPS and the Aspen Group as our loyal award sponsors," he concluded.
Cornelia Hart was the receiver of this year's gold medal for being the best performing student. She received this medal from ABSA, which is made of nine carat gold and worth R10 000. Cornelia thanked her husband, family, supporters, lecturers and her study leader. "Without you all, I would not have made it through this journey. Thank you so much for encouraging and supporting me," she said.

MBA class of 2018 – these students recently graduated from the NWU's Business School.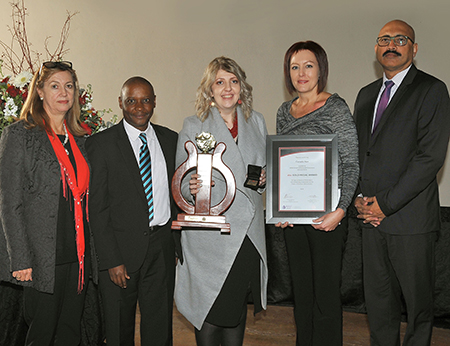 Cornelia Hart (middle) was awarded with the ABSA gold medal for being the best performing MBA student. With her is Prof Sonia Swanepoel, dean of the Faculty of Economic and Management Sciences, Vincent Mothunyane, head of regional coverage at ABSA, Anna-Lize Warren, North West area manager at ABSA, and Prof Daryl Balia, deputy vice-chancellor for campus operations in Potchefstroom.