#ThusaNgwanaGeno gives back
North-West University (NWU) lecturer at the School of Government Studies John Molepo has done it again.
During December last year and January this year, John and a number of volunteers collected money at various intersections in Potchefstroom and Pretoria.
The money was collected in aim of his annual #ThusaNgwanaGeno campaign that assists university students who come from disadvantaged backgrounds with funding for registration, stationary and text books.
"During the two months of raising funds, more than R70 000 was collected," says John. "#ThusaNgwanaGeno managed to help five students at the NWU, as well as a number of students from other universities.
Thabo Nambane who is first-year law student on the NWU's campus in Potchefstroom, is one of the five students at the NWU who received funding from the #ThusaNgwanaGeno campaign this year. "I am currently studying without a bursary, so John and his campaign really helped me," says Thabo.
"The funds I received helped me to purchase textbooks and a few other necessities that I needed." He adds that he is beyond grateful for the assistance he received and he hopes that one day he will be blessed enough to give back to the project.
Nico Ngubene, a first-year BA arts student, also received assistance for registration and says he greatly appreciates the funding he received, as this will help him change his life in the long run.
"I would like to thank everyone who has given towards the campaign and I look forward to seeing the students who have benefited from #ThusaNgwanaGeno achieve great heights," says John.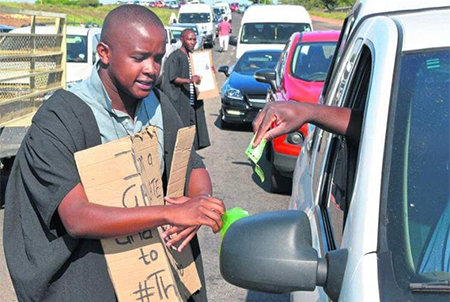 John Molepo collecting money for the #ThusaNgwanaGeno initiative.