Superlative NWU unbeaten in Varsity Netball 2018
Forget the recent cold front; the North-West University (NWU) is white-hot in the opening rounds of the Varsity Netball tournament.
The NWU squared off against the University of Johannesburg (UJ) in their opening bout of the competition on 26 August in Bloemfontein, where they comfortably won 77-27. Player of the Match Monique Reyneke was in superlative form and together with her on-form colleagues, UJ were never really in the picture.
Fast forward to Monday 27 August and another win, albeit a much harder fought one, was again on the cards for the NWU. Defending champions, the University of Pretoria (UP-Tuks), proved an exceedingly tougher nut to crack, but last year's runners-up showed excellent composure to win 81-73. UP-Tuks must be applauded for their fighting spirit as they chased down a points deficit for most of the match, but the NWU proved too strong.
Bloemfontein proved to be a happy hunting ground for the NWU, but both Stellenbosch University (Maties) and the University of the Free State (Kovsies) also incurred no losses after two outings. The NWU faces the University of the Western Cape next on 2 September at the Callie Human Hall in Bloemfontein, before taking on the Vaal University of Technology at the same venue the next day. These two games should provide the team with ample preparation for their next encounters.
The hill becomes a little steeper on 9 September when the NWU will head to Stellenbosch to face Maties, followed by the Nelson Mandela University (Madibaz). The round-robin stages finish with a clash against Kovsies.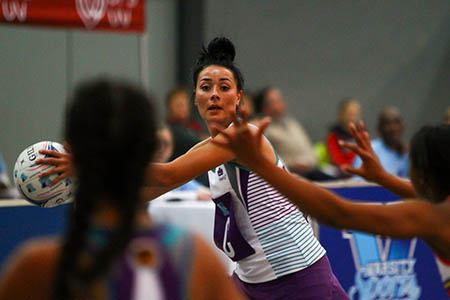 The NWU's Rome Dreyer was on fire during the match against UP-Tuks in this year's rendition of the Varsity Sport Netball tournament.
Copyright
Hannes Naude
#NWUWomen