SOWASK puts cancer on the agenda
Social work students of the Vaal Triangle Campus of the North-West University (NWU) recently did their part in the battle against cancer.

The group of students, under the banner of the subject society SOWASK, was the driving force behind a recent campaign aimed at creating awareness of the disease which annually claims thousands of lives. Part of the campaign was handing out balloons to fellow students in order to create awareness.
The recipient of such a balloon was then educated about the reality of cancer and informed about the merits of a healthy lifestyle when it comes to prevention and early detection.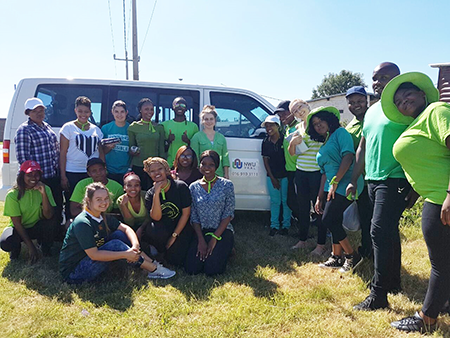 In front from left is Refilwe Kumalo, Mokoena Mothonkha, Mpho Tsotetsi, Princess Mohalanyane and Carol Ankiewicz. Back row from left: Lucia Madonsela, Sifiso Sibeko and Suanne Leeuwner.
SOWASK is the first society of its kind that has ever existed in the Social Work department at this campus. Under the leadership of Dr Elmien Truter, the society aims to provide a support network for social work students and proactively make a difference in the immediate campus community.