Samsung helps NWU turning potential into power
Empowering the youth of today by investing in their future will bring about a meaningful change that turns potential into power.
This is exactly what Samsung did when the global technological giant recently handed over bursaries to the value of R 1 416 000 to 19 North-West University (NWU) students who are studying business, marketing and information technology.
Aptly named "Empowering Tomorrow", this event is aligned with Samsung's global mission – "Enabling People" – which is aimed at helping people discover and develop their innate potential. 
During the auspicious event Sung Yoon, Samsung's head on the continent, together with various representatives of educational institutions witnessed the beginning of a brighter future for these recipients.
 "We believe this investment will help alleviate the current skills shortage facing the country, most notably through the government's 2030 vision," said Hlubi Shivanda, Director: Business Innovation Group and Corporate Affairs at Samsung South Africa.
According to Clement Manoko, the NWU's executive director for corporate relations and marketing, access and success are two critical issues facing higher education institutions. "This Samsung sponsorship will help address the issue of access, particularly for those not receiving government funding. We need more corporate citizens like Samsung to come on board and fund students in higher education to ensure that our country remains competitive.
"These students can play a meaningful role in the development and growth of our country and also to empower their families. We thank Samsung for enabling people and prioritising education to empower the next generation."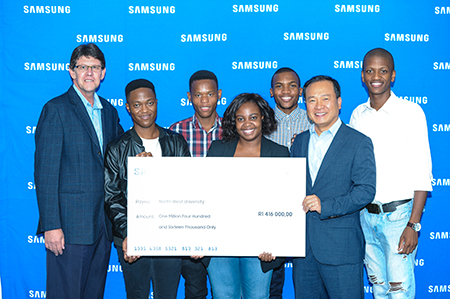 Empowering the leaders of tomorrow. On the left are Danie Hefer, the NWU's manager for central bursaries, with some of the NWU students who received bursaries from Samsung. On the right holding, the check is Sung Yoon, Samsung's head on the continent.