Russian students to further their research at the NWU
Dr Dimitri Bessarabov, the North-West University's (NWU's) director of the DST HySA Infrastructure Centre of Competence in Hydrogen production, storage, reticulation and safety codes and standards, recently welcomed two Russian students who will be conducting research at the NWU.
Every year, an open public competition of the Ministry for Education and Science of the Russian Federation is held for the fellowships of the President of the Russian Federation. This offers undergraduate and postgraduate science, culture and art students from all Russian universities, who have progressed significantly in fundamental and applied research, to study abroad. Only the best 60 PhD and 40 undergraduate and/or master's students are selected.
According to the competition conditions, every participant should have made excellent progress in their studies, should have a significant scientific background and have to be recommended by his/her university.
Irina Pushkareva and Artem Pushkarev were successful and chose the NWU as their institution of choice.
They are postgraduate students at the Department of Chemistry and Electrochemical Energy of the National Research University, Moscow Power Engineering Institute. They have more than six years of professional experience and have taken part in several projects in the field of renewable and hydrogen energy.
"Our research is related to the water electrolysis proton exchange membrane (PEM), as well as anion exchange membrane (AEM) water electrolysis," says Artem. He adds that although both topics are extensively studied all over the world, unfortunately PEM water electrolysis technology consumes quite a large amount of scarce and expensive noble metals such as platinum and iridium.
The target of their research is to increase the utilisation of such materials and to decrease its loading. The establishing of AEM electrolysis and the decreasing of noble metal loading in PEM electrolysers holds various benefits for South Africa and Russia, especially with regard to the significantly growing market of hydrogen energy technologies.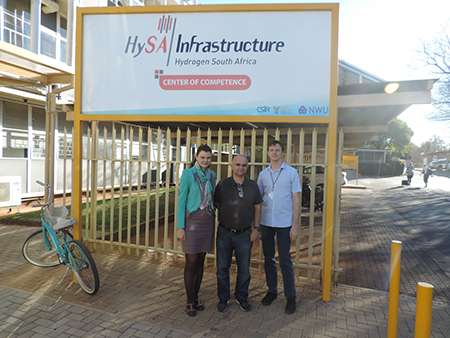 Irina Pushkareva, Dr Dimitri Bessarabov, director of the NWU DST HySA Infrastructure Centre of Competence in Hydrogen, and Artem Pushkarev. Irina and Artem will do further research on the utilisation of platinum and iridium at the NWU.