Respect for the environment has deep roots
When you give something a name, it comes to life. When you give something your own name, it gains even more meaning.
This was the case during National Arbor Week when Prof Marilyn Setlalentoa, deputy vice-chancellor for community engagement and operations on the North-West University's (NWU's) campus in Mahikeng, planted a tree and named it Boitumelo – her African name.
Other colleagues also planted and named trees after themselves and vowed to nurture the trees and watch them grow on campus.The trees were planted close to the newly built Law Faculty building, which until recently had no vegetation.
The tree-planting ceremony was held to celebrate Arbor Week, which is observed all over the world and celebrated nationally from 1 to 7 September. The purpose of this week is to instil a culture of respect for the earth's natural resources and specifically to encourage the planting of trees.
After planting the first tree, Prof Setlalentoa encouraged staff members to be active participants in advocating for a healthy environment. She drew the attention of staff to the importance of keeping their own immediate environment clean and by extension their campus.
Click here for a brief history about Arbor Day and other interesting facts about trees.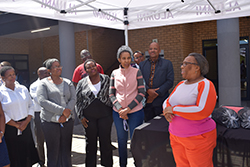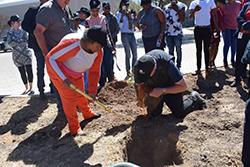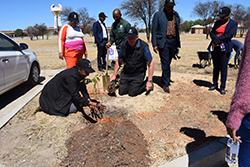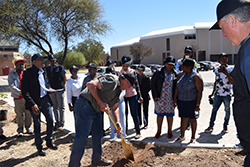 The NWU's campus in Mahikeng recently celebrated Arbor Week. Prof Marilyn Setlalentoa planted the first tree named Boitumelo, and other staff members joined in.