For researchers, by researchers and with researchers
The Sanlam Auditorium on the campus in Potchefstroom was buzzing with excitement as 500 researchers from the North-West University (NWU) attended the first Biennial Research and Innovation Conference.
The conference, which is the brain child of Prof Refilwe Phaswana-Mafuya, deputy vice-chancellor for research and innovation, took place from 27 to 29 November 2018.
The theme for this year's event was "Positioning the NWU for research and innovation excellence, visibility and impact: maximising successes, strengths and opportunities".
During the occasion NWU researchers had the opportunity to share, learn and exchange all the great research and innovation that has brought institutional, national and international awards to the university.
His Majesty Kgosi Leruo Molotlegi of the Royal Bafokeng Nation and chancellor of the NWU delivered an inspiring inaugural opening address. He also visited the more than 40 exhibition booths that displayed the NWU's excellent research and innovation projects.
With more than 50 speakers from various faculties, organisations and institutions, this conference was like no other. Some of the eminent speakers included Prof Ahmed Bawa, chief executive officer of Universities South Africa, Prof Jonathan Jansen, president of the Academy of Science of South Africa, and Prof Stephanie Burton, vice-principal for research and postgraduate studies at the University of Pretoria. Other speakers included Mr Imraam Patel, deputy director-general of the Department of Science and Technology, Dr Phethiwe Matutu, NRF group executive for strategy planning, Mr Chief Mabizela, Chief Director: DHET, and Prof Olu Babbalola, vice-president of the Organisation for Women in Science in the Developing World.
"During the sessions many people were also engaging in conversation," said Prof Anel Du Plessis, SARCHI Chair at the Faculty of Law. "I have spoken to colleagues and postgraduates in our faculty who have surely made new connections and gained valuable insights in the research landscape of our university and the country."
"This conference was a huge team effort involving all faculty leadership, portfolio departments and their staff, as well as postgraduate student volunteers who worked tirelessly for the conference to succeed," said Prof Phaswana-Mafuya. "I would like to thank the vice-chancellor, Prof Dan Kgwadi, without whose visionary leadership, open mindedness, desire for positive change and confidence in me this event would not have taken place.
"I also feel extremely blessed and highly privileged to work with such a cadre of nationally and internationally renowned researchers and innovators who are game changers in their respective fields.
The conference proceedings were made accessible to the entire world through live streaming.
Prof Kgwadi also congratulated Prof Phaswana-Mafuya and her team on a job well done.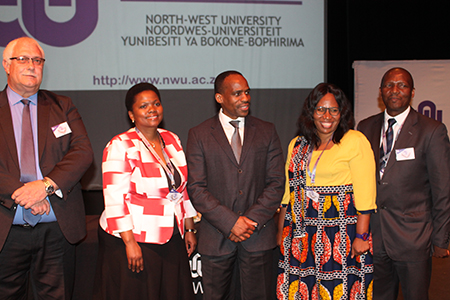 Here are from left Prof Awie Kotzé, executive dean of the Faculty of Health Sciences, Dr Phethiwe Matutu, NRF group executive, Kgosi Leruo Molotlegi, NWU chancellor, Prof Refilwe Phaswana-Mafuya, deputy vice-chancellor for research and innovation, and Mr Chief Mabizela, chief director at the DHET.