Research that will benefit everyone
Over the years the North-West University (NWU) has shown its commitment to conducting research that is not only value driven but also beneficial to the greater public.
Prof Petra Engelbrecht from the Faculty of Education recently gave a lecture on the "Impact and Sustainability of International Collaborative Research Projects". She was invited by the deputy vice-chancellor (DVC) for research and innovation, Prof Refilwe Phaswana-Mafuya, to present the 17th lecture within the DVC's public lecture series.
During her lecture Prof Engelbrecht explained why it is important to conduct impactful research. She also spoke about the various challenges and opportunities of international research collaboration and partnerships, and briefly shared her experience of international research collaboration.
Impactful research
According to Prof Engelbrecht, research needs to be seen as a circular pathway of engagement that creates impact beyond academia. Gone are the days where researchers conducted research just for themselves.
She says impactful research forces academics to think out of the box about what research they should conduct. "Academics have to embark on studies that will change or benefit the economy, society, culture, public services, health or the environment."
However, Prof Engelbrecht cautions that creating long-term impact using research is a complex process, and that one needs thorough system approaches rather than simple handoff procedures to be successful.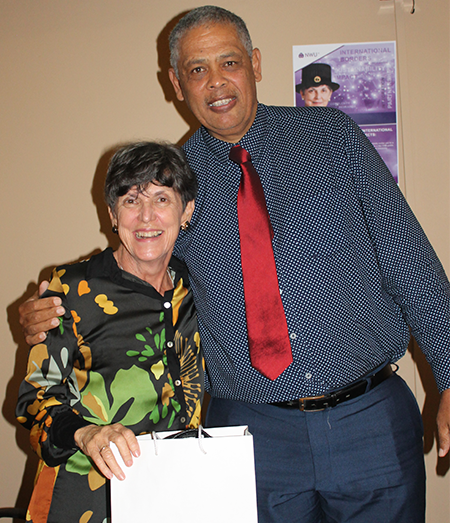 Prof Lloyd Conley, dean of the NWU's Faculty of Education, congratulates Prof Petra Engelbrecht on a successful public lecture.