Red carpet rolled out for new Golden Key members
The Golden Key Society has welcomed 204 new members during an event held at the North-West University's (NWU's) campus in Mahikeng.
More than 700 guests attended the event, aimed at honouring academic excellence.
Five NWU students – Jenneh Baindu Koroma, Zuko Mrwetyana, Simapulasi Munansangu, Lesego Sole and Kingsley Wright – also walked away with awards and prize money.
Golden Key is the world's largest collegiate honour society. Membership into the society is by invitation only and applies to the top 15% of college and university juniors and seniors, as well as top-performing graduate students in all fields of study. According to the organisers, membership is based solely on their academic achievements.
Why join Golden Key?
Golden Key offers its new members an opportunity to apply for scholarships eligible only to affiliated members. Since its inception, Golden Key has awarded more than $10 million in scholarships and grants to members and alumni in different fields around the world. The society offers over half a million dollars in scholarships annually.
The society also offers opportunities to apply for scholarships and to study abroad. These programmes take education outside the classroom, offering once-in-a-lifetime experiences for cultural immersion.
Through its corporate partners, the society has connections to jobs and internships that provide the hands-on experience young people need to further their professional development.
For more information, visit the official Golden Key website: https://goldenkey.org/about-us/why-join-golden-key/.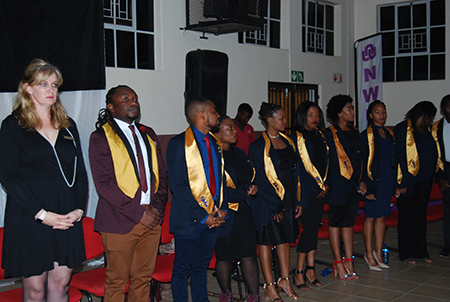 A few of the new Golden Key members line up to be officially welcomed.